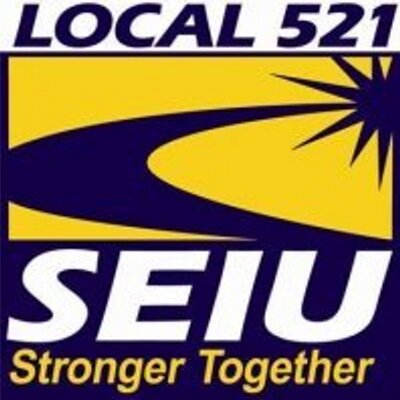 Communications Specialists
Two positions: (1) Bakersfield or Fresno / (1) San Jose or Fresno, CA

SEIU Local 521 was founded in 2007 when five (5) local unions came together in the Bay Area, Central Coast, and Central Valley to form one larger, more powerful union. Together our members are building a true 21st century union fighting to empower and improve the lives of our members. We represent 40,000 public service workers in cities, counties, courts, schools, private non-profits, special districts, and public health care. We are looking for energetic, hardworking staff that is committed to real change, who believes in the value of work and the value of public services, and who wants to be part of the team that wins for workers, their families, and their communities.
LOCATION: Two positions: (1) Bakersfield or Fresno / (1) San Jose or Fresno
Description: Under the direction of the Communications Director, the Communications Specialist will assist the local union with its communications work in support of the vision statement of the Local.
Typical Tasks:
All duties listed are required, but may or may not be continuously performed or on-going at any specific time. This list is not necessarily all-inclusive.
Designs and implements effective communication plans to advance campaigns, from basic contracts to multi-year campaigns to improve social and economic conditions for working families.

Participates in campaign strategy meetings and creates communication component for campaigns.

Understands how and when to engage local news media to advance our message.

Coordinates with New Media communications specialist to employ appropriate social media tools to meet campaign's goals and needs.

Writes, edits, helps produce local-wide newsletters [electronic and print], other large chapter newsletters, newsletter stock articles, leaflets, campaign communications, and other communications as appropriate.

Produces publication-quality artwork using Publisher or InDesign. Performs full range of art manipulation, including creating and scanning art, retouching photographs and placing them in text, and photo sizing.

Works with staff to provide high quality, timely newsletters to chapters.

Works with staff on the timely upload of chapter newsletters to website and other social media platforms, such as Facebook, etc.

Works with education & training director and communications director to train staff on basic communication products, such as leaflets and newsletters.

Coordinates translation of local-wide union literature into main languages spoken by membership.

Maintains database and archive of union literature.

Works with staff to maintain photo library of members' pictures and events.

Performs photography, video as appropriate to campaign.

Assists with all modes of communications with membership.
Employment Standards:
Excellent writing, proofreading, desktop publishing, verbal, visual/ graphic, and communications skills. A bachelor's degree in English or related field preferred. Two or more years' experience in writing leaflets, newsletters, and similar communications. Familiarity with all aspects of literature production including programs such as, Publisher, InDesign, and Photoshop. Submission of portfolio required.
Special Skills and Aptitudes:
Understanding of union campaigns and issues.

Ability to articulate campaign messages effectively for a worker audience.

Excellent writing, proofreading, and verbal skills. A writing test is required.

Familiarity with all aspects of literature production process including layout required.

Knowledge of Photoshop, including photo and graphic manipulation.

Ability to perform layout and production of 4/color art.

Ability to perform copywriting including headlines.

Proficient photography, video skills.

Ability to handle multiple "priority" projects simultaneously and meet established deadlines.

Ability to produce high-quality design/artwork as evidenced by portfolio review.

Ability to work on multiple projects, coordinating work with others to produce projects on time.

Ability to establish and maintain rapport with widely varied ethnic, occupational, and social groups.

Ability to work within timelines under pressure and minimal supervision.

Willingness to work long and irregular hours often including evenings, weekends, and holidays.

Ability to think strategically and participate effectively as part of a campaign team.

Excellent writing skills in second language such as Spanish, Vietnamese or Chinese strongly preferred.
REQUIREMENTS: Must possess a valid California driver's license; must pass a DMV check and have a good driving record; must have auto insurance that covers business driving (minimum of $100,000 per person/$300,000 per incident bodily injury liability/$100,000 property coverage); and must possess an automobile for business use.
To Apply: Send cover letter and resume to:
Riko Mendez, Chief Elected Officer
Attention: Pam Rodgers, Administrative Director
SEIU Local 521
2302 Zanker Road
San Jose, CA 95131
Email: jobs@seiu521.org
Fax: 408-954-1538
No phone calls please
This position is open until filled; however, the posting/acceptance of applications may close at any time.
AFFIRMATIVE ACTION EMPLOYER
Local 521 is an affirmative action employer and encourage applications from all qualified candidates regardless of race, ethnicity, age, sex, sexual orientation, marital status, religion, or disability. Local 521 works to ensure fair treatment of applicants and employees and actively enforces policies against discrimination and sexual harassment.
WHEN APPLYING: Be sure to indicate that you saw this information at UNIONJOBS.COM.