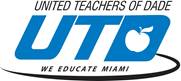 Union Organizer
Based in Miami-Dade County, FL

TITLE: Organizer
Organization Overview: United Teachers of Dade is the exclusive representative for 30,000 Teachers and Education Staff Professionals employed by Miami Dade County Public Schools.
Position Overview: The primary function of the Organizer is to visit schools on a regular basis, as well as work from the office, in order to organize members, provide information, answer inquiries, provide representation (both site based and at the district level), obtain feedback and handle day-to-day member services. Organizers also support the union generally by conducting training, serving as representatives to various union and/or district committees and other special projects. The Organizer shall report to the Director of Organizing. The Organizer will be responsible for a specific cluster of schools and other worksites.
The Organizer is responsible for:
Scheduling school visits on a regular basis. School visits shall include regular meetings with Stewards and faculty meetings, as well as general UTD meetings.

Promoting membership in the schools and consistently working with Stewards to establish and maintain organizing activities.

Aiding Stewards and members in the resolution of specific issues. This may involve handling grievances, complaints, inquiries, assisting with certification issues and providing related services.

Representing members and other employment related meetings or hearings.

Improving communications with members and potential members at assigned sites by keeping Stewards informed on UTD activities and providing necessary trainings or information.

Preparing papers, articles, letters, or other written communication as assigned by the Director of Organizing.

Identifying key people to serve on committees and participate in UTD activities.

Serving as staff liaison to UTD Committees/Task Forces.

Attending Stewards meetings and all other general membership meetings or trainings unless excused by the Director of Organizing.

Completing such other duties incidental to this position as may be assigned by the Director of Organizing.
Successful applicants will possess the following knowledge, skills and abilities:
A solid understanding of unions and labor relations is necessary.

A degree in education, labor relations or a relevant field and/or prior experience as union staff, a union activist and/or leader is preferred

A general knowledge of education issues, with an emphasis on issues affecting our members.

Demonstrated organizing, communicating and coordinating skills necessary to successfully complete complex group projects and activities.

Ability to work independently, while managing multiple projects and working under tight deadlines.

Demonstrated leadership ability in working with professional groups and/or labor organizations.

Ability to work as part of a team in a small, but very busy office where anything and everything may be part of your job.

A strong commitment to public education and the incredible work our members do is absolutely essential.

A valid driver's license and reliable transportation-the job requires daily in-county travel.

The ability to work irregular hours, including evenings and weekends.

Rudimentary knowledge of labor law.

Knowledge of the UTD Contract).

Experience in recruiting members.

Team development.

Some understanding of the history of UTD and affiliate organizations, FEA, NEA, AFT.

Knowledge of goal setting.

Must be self-directed (how to prioritize work-load).

Some technology experience.

Ability to analyze data.

Rudimentary knowledge of collective bargaining.

Knowledge of Right-to-Work state statutes.

An understanding of workforce diversity.

Organizational skills.

Willingness to recruit members.
In addition to the above responsibilities, the employee may be required, on occasion, to travel out of county/state and/or attend meetings in the evening or on weekends, at the employer's expense. Flexible hours may be required to meet the responsibilities of this position. A valid Florida driver's license is required as well as clearance to enter school sites under the Jessica Lunsford act.
REQUIRED SKILLS, EXPERIENCE, EDUCATION
Proficiency in Microsoft Office and Internet

Problem solving and negotiating skills

Excellent organization and communication skills

Ability to multi-task in fast-paced environment, and relate to diverse needs

Minimum three years' experience in a related field

Bachelor's Degree education-related field
PHYSICAL REQUIREMENTS
This is moderately physical work which requires the following physical activities: bending, stooping, crouching, lifting, twisting, finger dexterity, repetitive motions reaching, sitting, standing, walking, driving, talking, hearing, and visual acuity. This work is indoors and outdoors. Frequent travel within the county is required.
Compensation: Salary $49,000 Medical insurance, life insurance, and retirement benefits. Generous leave and holidays.
To Apply
Please send resume by Thursday, March 1, 2018 to: Mindy Grimes-Festge, Secretary/Treasurer: mindy@utd.org.
WHEN APPLYING: Be sure to indicate that you saw this information at UNIONJOBS.COM.