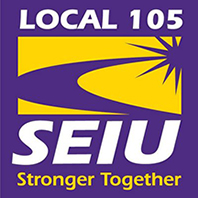 External Organizer
Property Service
Based in Aurora, CO

About our Union
"Our union is growing and has new opportunities for smart, dedicated, and passionate people looking to work in a dynamic, progressive, and innovative labor union."
The Service Employees International Union (SEIU) is the largest and fastest-growing union in North America, with 2 million members in Healthcare, Property Services, and Public Services. SEIU is the nation's largest healthcare union and is working to expand access to quality, affordable and secure healthcare for all. SEIU Local 105 is a growing union and represents over 7,000 healthcare and property service workers in Colorado, but concentrated in the Denver Metro area.
Are you ready to be challenged and inspired? Are you ready to do meaningful work and be part of struggles that you would tell your friends and/or grandkids about? Are you ready to do multi-faceted work that builds power for working people? If so, we want to hear from you!
About the Position
SEIU Local105 is now hiring an External Organizer to build power for service workers in the Denver Metro Area, Aurora, and DIA - Denver International Airport.
SEIU Local 105 is on the cutting edge of progressive activism,building the power of low-wage workers and engaging in larger social issues such as immigration and healthcare. SEIU Local 105 represents nearly 7,000 janitors, security officers, window cleaners, parking attendants andhealthcare and mental health workers. The Union is home to the Justice for Janitors and Stand for Security,campaigns that have successfully improved the lives of thousands of low wage and immigrant workers throughoutthe country.
Local 105 is currently running multiple organizing drives. We are looking for an energetic, forward thinking person who is excited to be part of a movement for real social change and who wants to bepart of a team that fights and wins for workers, their families and their communities. Organizers work as part of acampaign team made up of organizers, researchers, and other campaign staff.
Do you want to join a growing and progressive union? Do you want to join the fight for the 99%? Are you ready to join the working class struggle to rebuild our economy and democracy? If you work hard, have a 'can do' spirit, can move others to take action, and if the fire for social justice burns in your gut—we would like to talk with you about a future with SEIU Local 105. We offer competitive salary and benefits—but more importantly: we offer the chance to develop yourself as an organizer, do work that will change your life, and engage in the kind of kick-ass struggles that you might tell your grandkids about. We are committed to building a multi-racial working class movement that can contest the 1% for power, so women and people of color are encouraged to apply.
KEY JOB RESPONSIBILITIES:
Participate effectively on a team of organizers and researchers to plan and implement new worker organizing & issue-driven community based social justice campaigns.

Recruit and develop the leadership abilities of workplace leaders and committees.

Work with leaders and committees to educate, agitate and motivate people to action.

Maintain accurate and detailed information on worksites and track individuals' info and assignments.

As needed, gather information for legal action to protect peoples' rights.

Encourage participation in political and lobbying activities

Prepare and manage work plans, calendars, files, reports and other records
JOB REQUIREMENTS
Commitment to social justice

Strong written and verbal communication skills

Ability to effectively plan and implement work and manage time, as part of a team and individually

Willingness and ability to work long and irregular hours, including evenings and weekends

Flexibility for travel based on work assignments

Experience and knowledge of computer programs is a plus (including word processing, desktop publishing, spreadsheet and database software)

Driver's license and reliable car is a must

Motivated self-starter who is also a solid team player

Excellent oral and written communication skills

Strong personal planning and time management skills

The ability to work with people from other cultures and backgrounds
SALARY & BENEFITS

Please submit résumé before end of March 8, 2018.
To apply, email a résumé with cover letter explaining interest and qualifications to JulieAnna Gonzales: Jgonzales@seiu105.org.
SEIU Local 105 is an equal opportunity employer. Women and people of color are strongly encouraged to apply.
WHEN APPLYING: Be sure to indicate that you saw this information at UNIONJOBS.COM.