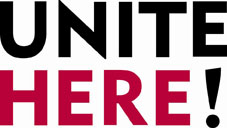 UNITE HERE

Campaign Researcher
Covering UNITE HERE Locals 19 and 483
in the South Bay and Monterey areas, CA

UNITE HERE Locals 19 and 483 represent several thousand hotel, food service, and gaming workers in the South Bay and Monterey areas. The unions are seeking to hire a Campaign Researcher – someone to conduct research and carry out campaigns in support of union members and non-union workers in those industries.
UNITE HERE researchers do industry, corporate, real estate and political research and analysis to develop campaigns focused on winning economic justice for low wage, mainly immigrant workers. Our campaigns organize non-union workers and secure improved standards for existing union members in hospitality jobs. (www.unitehere.org)
Job responsibilities will include:
Research companies using a wide variety of sources, including published databases, on-line and Internet sources

Conduct local and field research on real estate development projects, companies, and/or industries

Develop company analyses and adapt them for various audiences (e.g. leadership & staff, workers, stockholders, political & regulatory bodies, the public)

Identify and analyze new hotels and other development projects in our industries, and represent the union during the planning & political approval process

Communicate and build relationships with a wide variety of players including community organizations, company officials, customers, government staff and elected leaders

Develop and carry out campaign strategies and tactics

Work with UNITE HERE members, organizers, regional staff and elected leaders; assist in moving campaigns forward through organizing, leading actions, doing political work, as needed
Desired Qualifications include:
Passion for, and commitment to, fighting for workers' rights

B.A. degree or relevant research and/or activist experience (labor, political, urban planning, community/campus, or in the hospitality industry)

Strong interpersonal/organizing, political, analytical, writing, and computer skills

Willingness to work long and sometimes irregular hours, and to travel regularly (including spending several days each week in both San Jose and Monterey offices)

Ability to effectively manage a workload with competing priorities and deadlines

Reliable car and driver's license, for regular trips between San Jose and Monterey; researcher will spend roughly 2-3 days in each location every week.
Current UNITE HERE Campaign Researchers have worked in the past as community and union organizers, urban planners, journalists, teachers, and researchers elsewhere, or in hospitality industry jobs.
TO APPLY: Submit your application here: http://jobs.unitehere.org/. Please be prepared to upload your resume, cover letter, writing sample and three references.
Women and People of Color are strongly encouraged to apply. Salary is commensurate with experience. Positions include excellent health benefits and retirement benefits.
UNITE HERE is an equal opportunity employer and gives equal consideration to all applicants without regard to sex, age, race, color, religion, national origin, disability, veteran status, sexual preference, gender identity or gender expression.
WHEN APPLYING: Be sure to indicate that you saw this information at UNIONJOBS.COM.