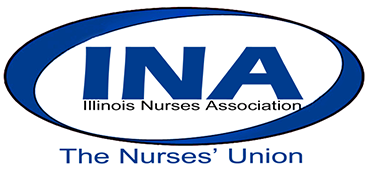 Illinois Nurses Association

Staff Specialist
Based in Springfield, IL
(with travel throughout Illinois)

The Illinois Nurses Association is a progressive labor union that builds nursing power through a democratic organization in which all members participate and contribute. INA fights for workplace standards that empower nurses to provide the best patient care possible.
Illinois Nurses Association (INA) is looking to fill a Staff Specialist position. This position is a bargaining unit position with a competitive salary, working conditions, and benefits. Driver's license and reliable vehicle a requirement. This individual will work out of the INA's Springfield office. Telecommuting may be possible at times.
This position requires regular travel and includes an assignment that covers facilities located throughout Illinois, including Central Illinois and Southern Illinois.
Summary
Working under the leadership of the Executive Director, provides direct service to collective bargaining members regarding labor relations representation activity including such things as contract negotiations, contract interpretation, grievances, and general problem-solving.
Duties and Responsibilities
Implements and maintains the organizing model of service and contract administration for assigned local units. Assists in the contract negotiation process or serves as chief negotiator as assigned. Monitors the ongoing contract administration.

Advises members on various aspects of contract interpretation and administration, filing grievances if necessary. Represents the local unit or member throughout the subsequent process, including grievance or arbitration processes.

Participates in labor/management meetings and discussions, and provides general problem-solving support and assistance to members of assigned local units.

Works with local unit leadership and general membership in developing and implementing strategic plans for leadership development and member education.

Develops and conducts educational workshops for members, prospective members, and other audiences on topics related to collective bargaining and labor relations.

Assists in developing and conducting regularly scheduled retreats, educational sessions, planning sessions, or leadership development sessions for existing local units.

Keeps abreast of developments in local, state, or national events or activities pertaining to collective bargaining, labor relations, employment law, or other related areas that may impact interpretation and administration of existing local unit contracts.

Responds to member inquiries or concerns about INA or the local unit, and provides prompt service and assistance.

If and as requested, prepares articles for publication in The Illinois Nurse, local unit newsletters, on the INA Website, or for inclusion in other flyers or informational brochures pertaining to labor/collective bargaining activity.

If and as requested, performs other duties or tasks necessary to service members of the Association or conduct the business of the Association.
Required Education, Skills and Abilities
Bachelor's Degree and three years of experience representing labor union members in collective bargaining or the equivalent combination of education and experience.

Ability to lead and motivate labor union members.

Capacity to serve as chief negotiator in contract negotiations.

Previous experience with the use of computer hardware and software, including Microsoft Office and Outlook in the performance of work-related tasks.

Analytical skills necessary to accurately understand, interpret, and act on moderately complex information and data.

Mathematical skills necessary to perform moderately complex calculations including the use of sums, percentages, fractions, and ratios.

Interpersonal communication skills necessary to communicate clearly, both verbally and in writing, to a wide variety of individuals and audiences, particularly when describing or explaining collective bargaining and labor relations information.

Ability to work cooperatively with a wide variety of individuals, consistently demonstrate a supportive, helpful approach when working with others, and consistently demonstrate the flexibility to lead or follow as various situations demand.

Ability to understand and apply established standards and policies and utilize sound reasoning to quickly and effectively resolve problems.

Ability to operate standard office equipment such as a telephone, copier, fax machine, postage machine, computer and computer printer.

Ability to focus attention on detailed tasks and activities, manage and coordinate a variety of tasks, and effectively prioritize work for maximum efficiency and productivity.

Ability to sit, stand, walk, bend, stoop, and reach while performing daily duties.

Ability to lift and/or carry up to twenty pounds.

Must have valid driver's license.
Work Environment
Normal office environment.

travel via automobile, train, bus, or airplane.
To Apply
Résumés and cover letters should be addressed to:
TiGi Nii, HR & Finance Administrator
Illinois Nurses Association
TNii@IllinoisNurses.com
(312) 419-2900 x232
WHEN APPLYING: Be sure to indicate that you saw this information at UNIONJOBS.COM.