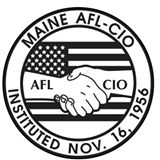 Communications Director
Based in Augusta, ME

The Maine AFL-CIO seeks a Communications Director to coordinate our overall communications program including traditional press engagement, digital strategies, internal communications, message development, communications training and support for affiliates' communications work.
Overview of Responsibilities
The Maine AFL-CIO Communications Director coordinates the Maine AFL-CIO's overall communications program including traditional earned media, press engagement, digital strategies, overall message development, internal communications, communications training and support for affiliated unions' communications work.
Description of Duties
Assists in developing and coordinating comprehensive communications strategies incorporating earned and digital communications in support of Maine AFL-CIO contract, organizing, legislative, political, issue and internal education campaigns. Coordinate internal and external communications across all platforms to ensure consistent messaging and effective targeting.

Take a lead role in developing campaign messaging. Produce talking points, fact sheets, leaflets, email blasts/newsletters, social media and online content, direct mail pieces, graphics and more for Maine AFL-CIO projects and campaigns.

Coordinate earned media coverage. Develop close relationships with state press corps. Serve as press point of contact – and sometimes spokesperson – for the Maine AFL-CIO. Organize press events and do advance press outreach and education. Draft op-eds, letters, etc.

Coordinate digital communications through the Maine AFL-CIO's email system (Action Network), Facebook, Twitter, website and other platforms. Work to accurately maintain these systems. Keep messaging consistent and updated. Manage Maine AFL-CIO email program, including list management and segmentation.

Work directly with local unions and Central Labor Councils to support their communications program and identify opportunities. Develop member leadership as effective spokespeople and communicators. Work with members one on one to prep for communicating with a broader audience. Conduct trainings on all aspects of communications strategy with union members and allies.

Develop and implement rapid response communications plans in response to urgent situations.

Work closely with other unions and allies to participate in and support larger communications strategies, shared polling and message development, and inclusion of a labor and working class perspective in broader messaging.

Support drafting and writing for Legislative Scorecards, candidate questionnaires and other key organizational programs.

Work closely with office manager to support overall management and effective use of the Maine AFL-CIO database.

Support the Maine AFL-CIO in using best practices for technology within our organization. Serve as an organizational resource to support effective usage of current technology and adoption of new technology.

Work together with Maine AFL-CIO staff on aspects of organizational development, fundraising, organizational campaigns, conventions, special projects, trainings and meetings.
Qualifications and Skills
2 – 3 years of communications experience, including message development, direct work with the press corps and pushing a message into the press, development and implementation of social media communications strategies, pushing internal communications and training members in communications.

Experience running multi-channel digital campaigns and knowledge of digital media platforms including web content management systems, email tools, social media, etc.

Excellent written and verbal communication and listening skills; and ability to write and create leaflets, brochures, mail pieces, email blasts and more.

Experience with graphic design and design programs and ideally video editing tools.

Knowledge of and experience with the labor movement is strongly preferred.

Ability to work independently within the context of a plan. Effective time management skills, including prioritizing and managing multiple tasks, and demonstrated experience in developing personal work plans and goals. Demonstrated ability to build teams and work effectively in a team environment in both a lead and a support role.

Ability to do effective one on one training with members, train groups of people and develop trainings and curriculum.

Computer proficiency is required: Access database/spreadsheet, email, internet, word processing, etc.

Ability to travel and to work long hours and weekends as required.
Job Details:
The Communications Director works under the direct supervision of the Maine AFL-CIO Executive Director and works in close collaboration with the Maine AFL-CIO President and Maine AFL-CIO staff.
To Apply:
This is a full time, union represented position based in our Augusta, Maine office. Salary is commensurate with experience. Salary range: $45,000 - $52,000. We offer a generous benefit package including a defined benefit pension, 100% healthcare coverage, an HRA and 17 paid holidays. To apply please send a cover letter, résumé, three references and samples of previous work to Matt Schlobohm, matt@maineaflcio.org. Please use the subject line: Communications Director. Applications accepted on a rolling basis. Applicants are encouraged to apply by Monday December 17, 2018.
The Maine AFL-CIO is an equal opportunity employer.
WHEN APPLYING: Be sure to indicate that you saw this information at UNIONJOBS.COM.