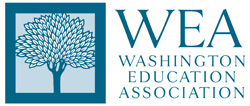 Washington Education Association

Bargaining Coordinator
Level 5
Based in Federal Way, WA
The Washington Education Association is seeking applicants for the position listed above. A job description is included on the following pages. This position is currently available to internal and external applicants.
To be considered for this position the following documents are required:
Cover letter

Updated résumé reflecting qualifications for this position

Signed WEA application form

Three (3) written references
A Washington Education Association application form is required and attached as a link at the end of this document. In addition, applications may also be obtained at the Washington Education Association located at 32032 Weyerhaeuser Way South, Federal Way, WA 98001 or by calling Human Resources at 253-765-7002 or 1-800-622-3393 extension 7002.
The preferred method for delivery of your application materials is online by following the link at the end of the job description. If you have questions or need assistance, please contact Karen Knight at the email address or phone number shown below.
Washington Education Association
Karen Knight, Human Resource Generalist
PO Box 9100
Federal Way, WA 98063-9100
253-765-7002 (Direct)
FAX (253) 946-4726
kknight@washingtonea.org
The deadline for receipt of cover letter, résumé, signed application and written references is on or before January 16, 2019.
The Washington Education Association is an equal employment opportunity employer. It is the desire of the Washington Education Association to interview applicants from an applicant/interview pool that reflects the diversity of the greater community for each vacancy as it occurs.
Supervision: The Bargaining Coordinator will report to the Advocacy and Organizing Center Director.
Job summary: The Bargaining Coordinator works within the Advocacy and Organizing Center out of the Headquarters facility in Federal Way, WA. The Coordinator will work with staff colleagues and field members to support grievance/arbitration and organizing efforts, and will be assigned lead responsibilities in the collective bargaining area.

Essential functions
Work collaboratively to develop, refine and deliver WEA's Collective Bargaining Program and its components

Work collaboratively with other advocacy specialists to refine and deliver WEA's contract administration program and its components

Work collaboratively with other staff in the development, refinement, and delivery of WEA's organizing program and its components, especially as those relate to organizing for local bargains

Provide various training programs in collective bargaining, grievance processing (including mediation and arbitration), and organizing (especially organizing for local bargains), for staff and members

Work with other advocacy specialists to develop and refine prototype contract language for certificated, Education Support Personnel (ESP) and higher education bargaining units

Provide lead field crisis intervention assistance as assigned with an emphasis on the diagnosis of crisis assessment

Work with designated staff on implementing WEA's binding arbitration funding policy and grievance mediation policy

Collaborate with the staff lead on Grievance/Arbitration to maintain arbitration awards and compile an in-depth evaluation/analysis of mediators, arbitrators and mediation and arbitration cases

Act as the state specialist in the implementation of the WEA's Coordinated Bargaining Program

Support and advance WEA's mission, goal and core values.

Establish and maintain positive working relationships with members, associates, managers and appropriate governance personnel

Provide field staff support in the areas of bargaining, organizing and/or contract administration, including but not limited to, recognition elections, collective bargaining, protection of member rights, organizing activities, and leadership training

Provide staff support for UniServ Representatives serving Education Support Personnel (ESP) and Higher Education units

Provide flexibility to field staffing needs

Complete other duties and responsibilities as assigned
Minimum job requirements
BA Degree or equivalent. An advanced degree desired.

Experience in/with:

Negotiating collective bargaining agreements, including mediation and fact-finding.

Organizing (Issue and Relational)

Field organizing activities and campaign strategies

Field crisis situations (i.e., collective action activities, strike build-up, strikes, etc.)

Contract language development

Contract analysis

Grievance processing, including grievance mediation and arbitration

Alternative dispute resolution

Various methods of bargaining (i.e., interest-based, traditional, etc.)

Group facilitation

Excellent interpersonal and written communication skills

Knowledge of and demonstrated proficiency in a variety of training methods, materials and technologies

Demonstrated history and/or experience working with communities of color and/or with historically underrepresented groups to enhance civil rights; experience with union activism and/or political engagement on behalf of civil rights issues

Possess the ability to work effectively in a team environment with other advocacy specialists, association staff members, members and leaders

Proven ability to lead and motivate individuals and teams

Knowledge and/or experience in modern communications technology, including online research

Ability to develop/incorporate intermediate and long-range planning components into work assignment

Support and advance the WEA mission, goal, core values and priorities

The ability to obtain a valid Washington State driver's license, possess a satisfactory driving record, and have a dependable automobile for association travel and automobile insurance with liability limits of at least $100,000/$300,000 required
Preferred requirements
Professional staff experience – preferably UniServ staff experience

Experience in local, state and/or national employee organizations or labor relations experience outside the field of education

Experience in working with Higher Education bargaining units

Successful education employee experience
Salary range and benefits
Annual salary range: Level V - $103,029 to $146,957
Benefits:
Medical, vision, dental and life insurance

Sick, and personal leaves (PTO)

Long term disability

Employer-paid Defined Benefit Plan

Defined Contribution Plan 401(k) – w/employer contribution

Position covered by the WEA/WEASO Collective Bargaining Agreement
Application procedure and references
In order to be considered for this position, a completed and signed WEA application form including résumé, cover letter and three (3) professional letters of reference must be received on or before January 25, 2019. Please submit your application materials online by following the link below.
WHEN APPLYING: Be sure to indicate that you saw this information at UNIONJOBS.COM.