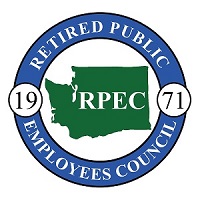 RPEC
Retired Public Employees Council

Executive Director
Based in Olympia, WA

The Executive Board of the Retired Public Employees Council of Washington (RPEC) is seeking candidates for the position of Executive Director.
This position demands a high level of vitality and integrity working with the Council Executive Board providing leadership to RPEC members, leaders and statewide chapters. They must demonstrate the highest level of inter personal relationships that will inspire the confidence, respect and trust of RPEC members, staff, and outside common-interest groups. The position requires a thorough understanding of the legislative process and skills to function effectively as an advocate on legislation concerning issues pertaining to Retired Public Employees. In addition, fiscal and personnel management experience is essential.
The Executive Director is appointed by and serves at the pleasure of the RPEC Executive Board. They must have the ability to communicate effectively, both orally and in writing, with different levels of government, legislators, Council Executive Board and committees.
Position Description
The Executive Director serves as the Chief Public Information Officer, Chief Research Analyst for pension and health care issues, Chief Legislative Liaison with local, state and federal policy makers and other governmental agencies throughout the state. The position handles multiple tasks related to public and community relations, marketing, legislative affairs, and implementing a communications strategy to reinforce the Council mission, vision, and values. This position reports to and works in close partnership with the Executive Board of the Council. This position is responsible for staff management, leading long range and short range strategic planning for the organization, developing constituent outreach programs, conducting workshops/seminars throughout the state, and assisting in organizational development.
Responsibilities
Provide administrative leadership and direction

Supervise, direct, and evaluate Council Staff

Facilitate staff development and training opportunities for Council and Member leadership

Develop, maintain, and enhance relationships with coalition partners

Increase and maintain partnerships with business, labor, community-based organizations and state/national agencies

Supervise the development of an effective process for strategic planning, prioritizing, and executing local, district and statewide projects that support strategic goals

Create and maintain an interconnected information sharing system among all stakeholders

Assist the Treasurer and Finance Committee in the development of the annual budget; make recommendations on budget matters; administer budget after adoption by the Executive Board

Provide oversight and direction for conventions, events, trainings, Board and Committee meetings

Coordinate membership recruitment and retention

Represent Council on Boards and Committees

Coordinate print media, marketing materials web related content, design, and updates; publish a quarterly Council Newsletter

Serve as a primary point of contact as the organization's Public Information Officer and liaison to the media; serve as agency spokesperson in responding to news media inquiries; provide press releases and public service announcements

Work directly with the RPEC Lobbyist for the advancement of legislative relations and agenda

Submit regular updates/reports to the President and Executive Board; sit as a non-voting member on the Executive Committee/Board

Perform related duties as assigned by the Executive Board President
Knowledge and Skills
Demonstrate administrative skills in areas of program development and management

Demonstrate strong planning, organizational, project, budget and management skills

Demonstrate excellent oral and written communication skills

Demonstrate success working with individuals and groups representing a wide range of diverse cultural, geographic, and socioeconomic backgrounds

Knowledge of federal issues that impact seniors, i.e. Social Security, Medicare, Medicaid, and health plans

Demonstrate grant writing skills

Demonstrate commitment to principles of collaboration and teamwork

Demonstrate in-depth, current knowledge of organizational trends and strategies for successful non-profit facilitation

Demonstrate ability to interact effectively with labor, business, industry, education, community and political/legislative professionals
Minimum Qualifications
Bachelor's Degree and/or five years of experience in employee relations, public relations, Legislative, political, legal field administrative experience or other related management experience

Two years of supervisory experience

In addition this position requires a willingness to travel throughout the State of Washington, a work schedule that is varied (involving evening and weekend work and which frequently exceeds 40 hours per week), and a Washington State driver's license and an employee-furnished vehicle which is insured.
Compensation:
Salary: Dependent on experience and education.

Benefits include: sick leave, vacation leave, health benefits and a defined benefit pension plan.
Application Process: To be considered, submit your résumé, letter of interest, and professional references by January 31, 2019 to Kandy Kraig President Retired Public Employees 906 Columbia St SW #501Olympia WA 98501.
You may also email the above information to: kkraigspok@comcast.net.
Any questions please contact RPEC 1-800-562-6097 (www.rpecwa.org).
WHEN APPLYING: Be sure to indicate that you saw this information at UNIONJOBS.COM.