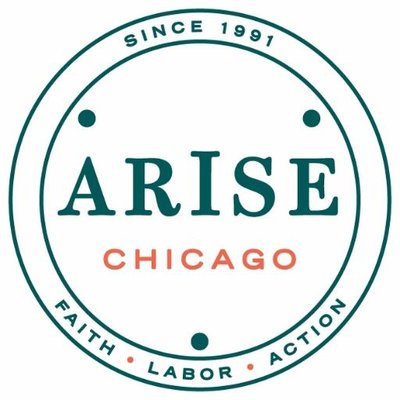 ARISE Chicago

Member Organizer
Based in Chicago, IL

Job Description:
Full time position to work closely with and develop low-wage, primarily immigrant workers into powerful leaders in the labor movement.
Reports to Worker Center Program Director.
Responsibilities:
Internal Organizing - 40%
Conduct 1 on 1 meetings with promising new members & assess leadership potential

Asses for and recruit members to attend Leadership Institute

Plan Leadership Institute weekend trainings twice a year

Plan and execute annual Member Unity Potluck

Plan and coordinate annual Member Victory Party

Recruit and train members to become workshop trainers

Maintain membership records & track leadership data

Identify leadership development opportunities for members

Identify and recruit member candidates for Board of Directors

Produce member educational materials including flyers and social media materials

Maintain communication with membership via meetings, phone calls, mass texts, social media, and e-boletin newsletters

Create and distribute membership ID cards and t-shirts

Report and advocate for membership during weekly staff meeting
External Organizing - 40%
Coordinate with and support Arise Chicago staff on workplace organizing campaigns

Mobilize members to support the workplace campaigns of fellow members

Mobilize members to support the campaigns of Arise allies, including Raise the Floor, sister worker centers, advocacy groups, and labor unions

Mobilize members to support the organization's public policy campaigns

Recruit and prepare members to represent the organization to religious congregation partners, including at annual Labor in the Pulpit event

Recruit, prepare, and accompany members to represent the organization in conferences

Recruit and prepare members to participate in fundraising, including foundation site visits and annual Breakfast fundraiser
New Member Outreach & Education - 10%
Recruit new worker members for the organization

Lead monthly Workers' Rights Workshops at Arise & periodically at community locations

Greet "walk-in" workers who arrive in person to the Worker Center

Manage worker center hotline: respond to worker inquiries invite to upcoming workshops

Represent the organization in community and coalition settings
Administrative Support - 10%
Provide data for grant writing and reporting, as requested

Produce annual membership report for staff retreat

Manage the renting & borrowing of equipment, including projector/interpretation devices

Collaborate with communications director to maintain and update website
Skills & Qualifications:
Required Qualifications
Full English and Spanish bilingual fluency is required (native Spanish-speakers preferred). Please do not apply if you are not fully bilingual

Basic training in community or union organizing

Strong respect for and comfort working with diverse immigrant and religious communities

Strong interpersonal skills and ability to work in groups

Familiarity with leadership development practices

Commitment to social justice and the empowerment of low-income communities

Excellent communication, presentation, and meeting facilitation skills

Basic computer skills
Preferred Qualifications
2 years of community or union organizing experience

Teaching or training experience

First-hand work experience in low-wage jobs
Compensation commensurate with experience. Excellent benefits including health, dental, long and short term disability, and generous vacation and sabbatical policies. Unique, collaborative and supportive work environment, with talented and dedicated team.
Arise Chicago is an equal opportunity employer. In order to best reflect our membership, immigrants, people of color, and women are especially encouraged to apply.
To Apply
Send résumé and cover letter to: info@arisechicago.org
Please include "Member Organizer Application" in the subject line.
WHEN APPLYING: Be sure to indicate that you saw this information at UNIONJOBS.COM.