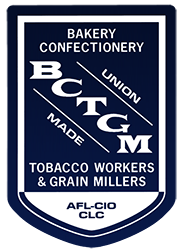 Bakery, Confectionery, Tobacco Workers and Grain Millers International Union

Strategic Action Field Coordinator and Project Researcher
Based in Kensington, MD

The International Union of the Bakery, Confectionery, Tobacco workers and Grain Millers (BCTGM) is seeking applicants who meet or who via training are capable of meeting the work requirements and long-term expectations of the position of Strategic Field Coordinator/Project Researcher listed below. The BCTGM has a proud history of over 130 years representing its nearly 100,000 members in manufacturing in the U.S. and Canada in the areas of food processing, tobacco and chemical production industries and has a vibrant institutionally supported strategic campaign segment that it deploys in the defense of its current members and those it seeks to organize.
The successful candidate for this position must be able to not only fulfill the duties outlined herein, but to possess the belief that the deployment of new strategic approaches can achieve success for our membership. The ability and willingness to acquire and learn these new tactics, be part of a team that deploys them on all levels of the organization and to become an integral addition to current and future strategies are as important or more important that possessing those immediate skills. We will train the successful candidate through ongoing campaign initiatives as well as more formal training formats. Computer proficiency is a necessity, including the ability to perform or learn to perform corporate, governmental and industry specific research in both field and office settings as required.
Interested candidates should send their résumé to Ronald Baker, BCTGM International Strategic Campaign Coordinator at:
BCTGM International Headquarters
10401 Connecticut Avenue
Kensington, MD. 20895
Attention: Ron Baker or Nate Zeff
Email: natezeff@gmail.com
BCTGM Job Description and Work Expectation Outline
This full-time position is working for a progressive organization that engages in local/regional/national and global efforts that support worker rights. The person ascending to this position will be required to be able to or be capable of learning through organizational training:
Ability to communicate verbally and in written form organizational messages on numerous levels of the organization that include local leadership, local membership and national leadership and in public forums including:

The ability to learn and use organizationally recognized language and acumen

The ability to communicate in traditional and non-traditional formats including the use of digital media platforms

The ability to frame messaging for project work that fits with the issues and that resonate with both the intended recipients of the messaging and also those on whose behalf the messaging is being generated.

The ability to learn how to use and incorporate graphics into messaging whether that be images or created digital campaign bannering

The ability to write meaningful well worded reports on work and work product status to superiors for review and consideration

The ability to speak in front of groups, organizational boards, committees, and hearing structures in both the public and private sector

Ability to think creatively and to work to present to strategic team varied ways to approach and solve a present issue using:

Opportunities present in the community or area via already established coalitions or community groups

Opportunities where issues are present and where the objectives of the organization may have some convergence to those issues in an effort to build a coalition that works toward the collective goals of all parties

Opportunities present in religious, political, business, student and other organizations to move campaign objectives in areas that reflect common interests

Opportunities to build new grass roots organizations where issues exist but where no formal structures in the interest of supporting organizational goals

Ability to work on multiple levels of organizations, including:

Public political structures and their staff and elected officials

National and international organizational structures and their layers of structure

Proficiency in computer technology including Microsoft software, email, Twitter and Facebook and forthcoming digital technologies and the creation of these accounts for organizational campaign purposes.

Ability to work traveling and in an office setting as needed:

Travel can be scheduled spontaneously as needed and as circumstances dictate

Travel can be in two-week stretches of time based on campaign and organizational needs and is a large part of the process

Office work at the organization's National Headquarters located in Maryland is also part of the process.

Ability to learn specific research processes, requirements and expectations on research of businesses and persons involved with those businesses, performing detailed research on both public and private organizations domestically and Internationally and the ability to use public information sources – online or otherwise – as well as more traditional sources such as business review articles, magazine articles, digital and otherwise, periodicals and organizational specific periodicals in the furtherance of that research.

Ability to document on an ongoing basis source citation during the research process.

Ability to take research information gathered from varied sources and coalesce that data into a thoughtful condensed review of plan possibilities for the team to consider in working toward its intended goal.

Ability to work with multiple details/program plans at the same time and to keep current and on time in the delivery of these numerous plan parts as required – multitasking – including but not limited to:

Assisting on putting together on-the-ground events, including rallies, meetings and field hearings

Scripting out messaging drafts for organizational or community presenters in field hearings and where testimony is required

Ability to operate as a Team Player and an integral part of departmental objectives and organizational goals as set forth by the organizational leadership

Ability to work alone as required and be a self-starter on work assigned and to deliver that work on schedule without having to constantly overseen by departmental
This Full-Time Professional staff position includes great pay and benefits including a defined benefit pension plan, great healthcare coverage, periodic wage increases based on longevity in the position, paid travel, daily per diem when dispatched away from home and others
WHEN APPLYING: Be sure to indicate that you saw this information at UNIONJOBS.COM.