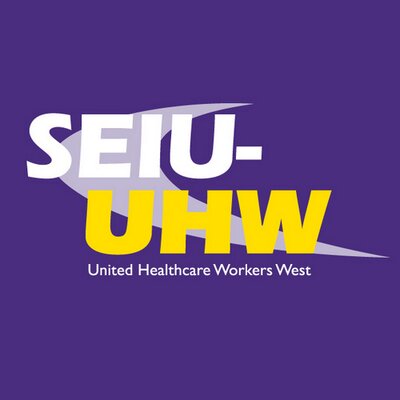 SEIU UHW West
United Healthcare Workers West

Political Coordinator
Based in Oakland or Sacramento, CA

Classification: Full-time, Exempt
SEIU United Healthcare Workers-West (UHW), with more than 95,000 members, is the largest healthcare union in California. We are caregivers from every sector of the industry, united to win better care for patients and better lives for our families and ourselves. For further information about SEIU-UHW, please visit our website: www.seiu-uhw.org.
Position Summary:
The Political Coordinator is responsible for directing the work of multiple staff, contractors and member leaders in support of objectives. The Political Coordinator is responsible for strategic planning, developing programs to build and strengthen our infrastructure, and leading on issue and electoral campaigns within the union that empower our members to be a strong force at their worksites, in the legislative process, in their communities and at the ballot box. Under the supervision of the Director, the coordinator collaborates in the overall development and implementation of the department's strategic organizational plan.
Location: This is a CA statewide position; base of operations negotiable. Oakland, Sacramento offices preferred
Areas of Responsibility
Supervise staff, build capacity and drive performance to meet organizational goals;

Provide leadership support to our Committee on Political Education (COPE);

Develop political strategy and integrate politics with all the work of the union.

Manage a successful program to create effective advocacy relationships between the membership and elected officials, community partners, and other stakeholders;

Train staff on recruiting members for political fundraising, electoral campaigns and legislative meetings and other union activities;

Play a leadership role with multiple levels of staff and members to create and execute successful worksite campaigns, contract and organizing campaigns, elected official accountability activities, and issue and electoral campaigns;

Participate in and work with SEIU communicators to prepare the creation of member education materials;

Plan and manage multiple campaigns and projects simultaneously in a high-pressure environment requiring rapid adjustment to changing priorities and strategies;

Provide support to representational staff for the recruitment, training, leadership development and coordination of member political activists for political fundraising, electoral campaigns, issue campaign and legislative meetings and other union activities;

Develop progress reports & analysis on local progress to fundraising and political capacity building goals using various database functions;

Work in close collaboration with multiple levels of staff and members to develop goals and execute plans for members participation in all areas of the political program and hard dollar fundraising;

Work with staff and members to integrate political capacity building into the day-to-day work of the divisions.

Represent UHW publicly with potential hard dollar large contributor funders;

Liaison with the International Union Political Capacity dept.

Other duties and responsibilities as assigned.
Requirements
Management experience in coaching, mentoring, and developing staff preferred.

Superior oral and written communication skills;

Minimum of five years proven talents in political organizing, or campaign experience with a labor union, state or local agency or association, non-profit community organization or progressive elected official;

Experience developing and implementing field plans measuring hard dollar fundraising and political engagement;

Ability to analyze complex numerical data sets and develop staff that are responsible for analyzing data;

Demonstrated capacity to analyze needs and develop organizational systems and procedures to meet them.

Advanced skills in Word, Access, Excel, Outlook and Windows including understanding of relational databases, ability to write queries and reports; fluency with mail merges and manipulating files among the Microsoft Office applications.

Proven presentation and training skills;

Outstanding interpersonal skills with a demonstrated ability to motivate, lead, build strong working relationships and hold others accountable;

Demonstrated ability to contribute to creating a positive work environment that encourages personal responsibility, initiative and innovation;

Self-motivated, great attitude and strong team player;

Strong sense of professionalism and integrity;

Proven ability to work with diverse group of people, from union members to union staff and leaders to elected officials to other community and issue stakeholders;

Thorough knowledge of MS Office programs;

Basic knowledge of Salesforce, PDI and other political databases helpful;

Fluency in a second language is desirable.
Compensation
SEIU-UHW offers a competitive salary, commensurate with experience, and a generous benefit package.
Application
SEIU-UHW is an affirmative action employer and encourages applications from all qualified candidates regardless of gender, race, ethnicity, age, sexual orientation, marital status, religion, or disability.
To Apply
Please submit cover letter, résumé and at least 3 references to our candidate portal at: http://seiuunitedhealthcareworkers.appone.com/.
WHEN APPLYING: Be sure to indicate that you saw this information at UNIONJOBS.COM.