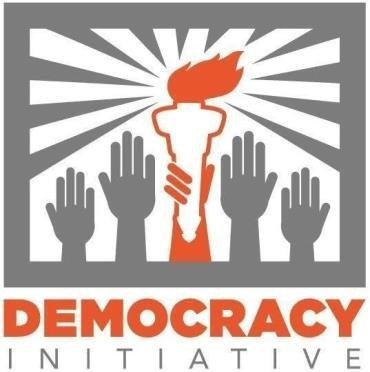 Democracy Initiative

Training, Development, and Movement Building Coordinator
Based in Washington, DC
Washington, D.C., Maryland, or Virginia area preferred

The Democracy Initiative is a unique, broad and diverse coalition of 69 organizations committed to strengthening U.S. democracy by growing the grassroots activist base. We are seeking a high-energy, creative, experienced leader committed to bottom-up organizing to coordinate our democracy training, leadership development and movement-building activities.
Duties:
The Coordinator will lead our Democracy Champions program, which supports our overall field organizing efforts by training leaders and activists at the state and local level. They will work with the Democracy Initiative's membership-based partner organizations and state and local activists to recruit, develop and engage activists in democracy reform campaigns around voting rights, ballot access, campaign finance and fair representation. Democracy Champions is unique in its focus on activists who come to democracy as a secondary issue, through their work in movements for environmental, economic and social justice. The program looks beyond electoral activity to focus on building people power through a more vibrant democracy. The Democracy Initiative's model of change views democracy as a cross-cutting, foundational issue that strengthens popular movements and increases our chances to win economic and social justice. All of our work is developed through a race/class equity lens.
The Coordinator will work with state and local partners to bring the Democracy Champions curriculum to their communities and support the local democracy movement (potentially including developing additional trainings to provide a ladder of engagement for local activists). They will recruit, deploy and support trainers who have completed earlier Train the Trainer sessions, while creating additional Train the Trainer opportunities. While most trainings will be held in community settings and bring together activists from diverse coalition partners, the Coordinator will also work with partner organizations, as needed, to customize the Democracy Champions curriculum to partners' internal training programs.
The Coordinator will also oversee the new Bayard Rustin Democracy Fellowship program, to be launched this year. The Fellowship program seeks to develop senior leadership of color to ensure that the democracy movement better reflects our communities. Responsibilities will include recruiting Fellows, mentors and placement organizations; organizing training and orientation sessions; and monitoring and assessing the program.
Requirements:
The successful candidate must have the following core competencies:
Eight years of senior leadership and education/training experience, ideally in the democracy reform movement

Local and state grassroots organizing experience with democracy, community, labor, civil rights or environmental organizations.

Commitment to building sustainable movements to win change that improves peoples' lives. While electoral experience is helpful, the Democracy Initiative believes that democracy is important 365 days a year, every year, and is most interested in candidates' experience in campaigns not tied to the election cycle.

Demonstrated familiarity with and commitment to non-hierarchical popular education practices.

Strong face-to-face and written communication skills.

Ability to build new and long-lasting relationships across race, gender and class lines.

Ability to thrive and build team camaraderie in a fast-paced, team environment.

Strong facilitation skills.
The Democracy Initiative is an equal opportunity employer and does not discriminate on the basis of race, color, national origin, sex, religion, age, disability, sexual orientation, gender identity, veteran status, height, weight, or marital status.
Salary range is $65,000 – $80,000 annually commensurate with experience and includes a generous benefit and vacation package.
* Position location: Washington, D.C., Maryland, or Virginia area preferred.
To Apply:
Please send a cover letter, résumé and writing sample to: jobs@democracyinitiative.org. Please note in the subject line the specific position for which you are applying.
WHEN APPLYING: Be sure to indicate that you saw this information at UNIONJOBS.COM.