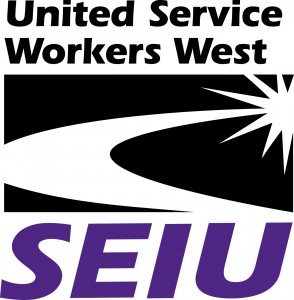 SEIU USWW
United Service Workers West

Internal Organizer I
Southern California Multi-Services Division
Based in Los Angeles, CA

The Service Employees International Union (SEIU) is our country's fastest growing labor union with more than 2 million members. We are on the cutting edge of bettering the lives of low-wage service workers and taking on the larger issues that impact their lives, from healthcare to education to immigration. United Service Workers West (USWW) is comprised of 40,000 property service workers from San Diego to Sacramento. Our union brings together janitors, security officers, residential, stadium, institutional housekeeping and food service, arena and airport workers. These workers are the heart of our union and, through their activism, the hope for a more progressive California.
SEIU USWW has an Internal Organizer position available immediately, based in Los Angeles, CA.
SOME KEY JOB RESPONSIBILITIES
Identify, recruit, train, and develop worksite leaders and activists

Perform regular worksite visitations and conduct onsite meetings

Conduct effective house visits and one-on-one communication

Drive mobilization and turn-out for actions, meetings, and union events

Develop and implement regular steward and committee meetings and trainings

Work with member leaders to maximize membership and COPE participation

Train members leaders to effectively resolve worksite disputes and problems and to recognize employer anti-union tactics

Be a direct liaison between members and the Members Resource Center

Maintain accurate worksite (worker, company, and owner/client) information

Communicate and maintain working relationships with company directors and managers

Develop comprehensive campaign plans for multiple contracts across Southern California

Negotiate single- and multi-site Collective Bargaining Agreements

Plan own work and make weekly, monthly, and quarterly plans based on departmental and union-wide goals, with appropriate training and supervision

Work in a lead capacity with other staff and member leaders, with appropriate training and supervision
SOME OF THE JOB REQUIREMENTS
Commitment to social justice and to building a movement that empowers working people

A sense of good judgment and a clear focus on strategic and long-term priorities

Minimum two years' experience in labor or community organizing

Ability to effectively plan and implement work and manage time, as part of a team and individually

Ability and willingness to travel long distances and to work long, irregular, and extended hours

Proficiency with common computer programs (including word processing, desktop publishing, spreadsheet and database software)

Good communications skills, including fluency in both English and Spanish

Experience in collective bargaining preferred

Driver's license, current insurance, and a reliable car
SALARY & BENEFITS
Salary is competitive and negotiable (based on the Staff Union Contract)

Full benefits package including health insurance, car allowance, a pension plan, paid vacation, and paid sick and comp days

The opportunity to make history as part of the most exciting, dynamic, and militant organizations in the labor movement
To Apply
Email a résumé with cover letter explaining interest and qualifications to: Anton.Farmby@seiu-usww.org.
SEIU USWW is an equal opportunity employer. Women and people of color are encouraged to apply.
WHEN APPLYING: Be sure to indicate that you saw this information at UNIONJOBS.COM.