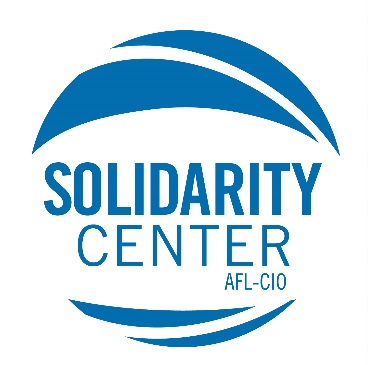 Solidarity Center

Senior Specialist for Organizing
Trade Union Strengthening Department
Based in Phnom Penh, Cambodia

The Solidarity Center is looking for a Senior Specialist for Organizing who is an experienced union organizer to help build organizing, collective bargaining strategies, and learning programs for union partners in Cambodia with additional assignments throughout the region. Extensive experience as an organizing director or lead organizer for a labor union is required. Additional experience in union management and internal organizing is highly desirable. The position requires regular travel throughout Cambodia and the region and strong writing and analytic skills.
The Solidarity Center:
The Solidarity Center is committed to empowering women and men around the world to attain safe and dignified livelihoods, exercise their fundamental labor rights and have a voice in shaping work conditions and public policies that impact their lives. The Solidarity Center believes workers accomplish this by organizing and joining unions through which they negotiate collective improvements as well as build and balance power at the workplace and within the global economy.
Allied with the AFL-CIO, the Solidarity Center's professional staff of over 230 work in more than 60 countries with 400-plus labor unions and allied organizations. The Solidarity Center is the largest US-based international worker rights organization supporting workers—in garment factories, hotels, home service, seafood processing, mining, agriculture, informal marketplaces, manufacturing, the public sector and beyond—as they exercise their rights, including organizing for safer work sites, demanding living wages and improving laws (and the enforcement of existing laws) that protect working people, and fighting exploitation and abuse.
Summary of Position:
The Senior Specialist for Organizing is a senior level position responsible for union building. In doing so s/he will develop, implement and monitor organizing campaigns for multiple unions, and staff teams. The Senior Specialist for Organizing will help build the capacity of our partner unions to create winning campaigns in both external and internal organizing and support union bargaining teams in developing collective bargaining strategies.
To be successful the Senior Specialist for Organizing must provide advice, guidance, training and mentoring to the Center's union partners at the national and local levels. S/he prepares and exchanges information and coordinates activities with various departments of the Center, the AFL-CIO and other allied worker rights organizations. S/he produces well-written program reports and evaluations, in addition to monitoring programs to meet budget targets and programmatic results.
Personal Qualities:
The successful candidate will bring a sound union organizing background with at least 7-10 years of experience. Candidates should also have a strong social justice orientation with a passion for worker rights. S/he will have good judgment in U.S. and international political environments and the confidence, tenacity, energy, patience, and drive to work with others in this multilayered international organization to advance the cause of workers around the world.
Basic Qualifications: Senior Specialist for Organizing must have the ability to work independently and must be capable of managing multiple assignments simultaneously. S/he must have, at a minimum, a bachelor's degree in political science, international relations, labor relations or related fields and/or ten years equivalent work experience. Good communications and writing skills are a must. Computer literacy for word processing and simple spreadsheets is required. S/he must have the ability to work and interact easily with a diverse group of people. Fluency in a foreign language is a plus.
Supervisor: Director, Trade Union Strengthening Department
The duration of this position, as with all positions at the Solidarity Center, is contingent upon continued grant funding.
If interested, complete the application and upload cover letter and résumé.
Apply HERE!
Only finalist applicants will be contacted for an interview.
The Solidarity Center is an equal employment opportunity employer that does not discriminate against any person employed or seeking employment based on race, color, religion, sex, sexual orientation, gender identity, national or ethnic origin, age, marital status, disability, veteran status or any other status protected under applicable law.
Closing Date of Application: When filled.
WHEN APPLYING: Be sure to indicate that you saw this information at UNIONJOBS.COM.