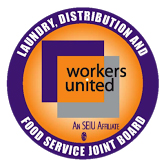 Workers United
SEIU Laundry Distribution & Food Service Joint Board

Union Representative
New Jersey, New York and Connecticut
(headquartered in Northern New Jersey)

NEW Position with a Progressive Union
The Laundry, Distribution and Food Service Joint Board is a progressive Union with a diverse membership who do demanding jobs in industrial laundry plants, distribution warehouses, food service and front-line public sector jobs. We are a strong and growing Union, headquartered in Northern New Jersey with members throughout the New York City metropolitan area.
Be Part of Our Team
Join an energetic team of experienced union representatives and organizers that defend the rights of working people. We work to build strong worker-led workplace organizations and stand up for greater economic and racial justice in our communities.
A Day in the Life of our Union Representatives
Leadership Development: Identify and foster existing and new Union leaders & activists' growth and leadership.
Bargain: Engage members for strong participation in contract negotiations, participate in bargaining.
Plan: Actions to win improvements in the workplace that promote workplace democracy & justice.
Mobilize: Members to participate in community, political and organizing opportunities in the larger union and community.
Defend: Work with shop stewards to enforce members rights in the workplace
Welcome & Educate: New members on what a union is and share opportunities for member involvement.
Build Relationships: Work with people from diverse background and culture
Our Culture & the Position:
SEIU is the nations' largest union of immigrant workers. The LDFS Joint Board, Workers United, has a diverse staff and membership and is committed to an inclusive work environment and social justice.
Application
Must have a valid driver's license.

Must be bilingual English/Spanish.

Minimum of three years of experience as a union organizer or representative
We offer a competitive salary, a strong benefit package, fully paid family healthcare, and generous time off accrual.
To Apply
Applicants must submit a current résumé, with references and a cover letter expressing their commitment and interest in the labor movement. Résumés and cover letters should be sent to:
Email: acarrasquillo@ldfsunion.org
WHEN APPLYING: Be sure to indicate that you saw this information at UNIONJOBS.COM.