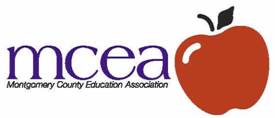 Montgomery County Education Association

Communications Specialist
Based in Rockville, MD

The Montgomery County Education Association (MCEA) represents more than 13,000 classroom teachers, professional school counselors, speech pathologists, media specialists, and other educators in the Montgomery County (MD) Public Schools system.
As one of the largest local affiliates of the National Education Association (NEA), MCEA is seeking a communications professional with 4-6 years of experience in communications planning and implementation; social media engagement, and media relations as well as outstanding writing and editing skills.
The Communications Specialist is responsible for helping to plan and implement a wide variety of media activities to gain coverage for the Montgomery County Education Association (MCEA) and the issues on which MCEA works. This role is responsible for developing and implementing media plans and coordinating some events; writing news releases, factsheets and other press materials; building relationships with and contacting online, print, and broadcast journalists; identifying spokespeople; and other activities as assigned by the Executive Director.
Essential Duties and Responsibilities:
Writing: Generate press releases, statements, talking points, advisories, fact sheets, opinion/editorial pieces, letters to the editor, editorial board memos and other press materials

Media & Messaging Strategy: Work with communications committee and program staff to develop and implement media plans

Social Media: Maintain an engaging and relevant social media presence for MCEA (Twitter, Facebook, Instagram

Website: Update and maintain the MCEA website

Media relations: Establish working relationships with reporters in beat areas. Call and email reporters to pitch MCEA-related stories; field inquiries from the media and forward reporters' questions to pertinent Executive staff and/or Governance

Research: Conduct research to develop factsheets, legislative bill summaries, talking points and other media relations and programmatic materials as needed

Press events: Work with appropriate program staff to coordinate, execute and publicize press events, teleconferences, and other promotional activities

Advertising: Develop strategies for digital advertising for appropriate use within advocacy campaigns. Develop messaging strategy, copy and manage design of print and digital advertisements; work with vendors to place advertisements

Attend press briefings and activities and help prepare Governance for interviews and media appearances

General support: Collaborate with and support Field Team colleagues in daily member engagement and organizing work

Compile monthly media coverage and analysis reports for sharing with Governance and others as appropriate

Perform all other work-related duties as assigned, including, but not limited to, coordinating focus groups, and polling. Collaborate with the Maryland State Education Association's and National Education Association's Communications Departments for seamless communications across all levels including but not limited to publications and reports, press materials, social media, blog, web site and other outreach, etc.
Qualifications:
Education:
Bachelor's degree (B.A./B.S.) or equivalent in Journalism, English, Communication Studies, Public Policy, Broadcasting; Master's degree in journalism or related field highly desirable
Experience:
At least 4+ years of experience working with news media and strategic communications

An equivalent combination of education and experience may be accepted as a satisfactory substitute for the specific education and experience listed above
Skills:
Ability to manage several tasks at once, use sound judgment, and follow up on prioritized assignments

Excellent writing and verbal communications skills

Work effectively with others on team assignments, including in situations requiring working in separate locations

Excellent project management skills required

Computer proficiency in Microsoft Word and other Windows applications

Bilingual in Spanish/English a plus
Work Expectations:
Work Environment: General office working conditions, the noise level in the work environment is usually quiet
Physical Demands: While performing the duties of this job, the employee is regularly required to use a computer and communicate with others while doing so

This position requires the possession and continuance of a valid Maryland driver's license. Must maintain auto insurance that covers business driving (minimum of $100,000 per person/$300,000 per incident bodily injury liability/$100,000 property coverage); and must possess an automobile for business use
All employees are required to satisfactorily perform the essential duties and responsibilities of their positions. The essential duties and responsibilities listed above are not intended to be construed as an exhaustive list of all responsibilities, duties and skills required.
Competitive salary and benefits:
Starting salary is commensurate with experience. MCEA provides a comprehensive benefits package including medical, dental, vision and prescription drug coverage, retirement savings plan, and long-term disability insurance. Salaries and benefits are in accord with a collective bargaining agreement.
MCEA is an equal opportunity employer and we strongly believe our organization and our work benefit from the experiences and perspectives of a diverse staff.
To Apply:
Qualified applicants should send cover letter, résumé, and 3 writing samples to: Mary Neal, 12 Taft Court, Rockville, MD 20850, or electronically to: mneal@mceanea.org.
WHEN APPLYING: Be sure to indicate that you saw this information at UNIONJOBS.COM.