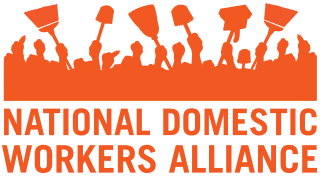 National Domestic Workers Alliance

North Carolina Lead Organizer
Based in Durham or Raleigh, NC

Position Summary
The National Domestic Workers Alliance (www.domesticworkers.org) organizes domestic workers in the United States for respect, recognition and labor standards. We work to guarantee labor protections for domestic workers by winning legislation at the state level, pushing for regulatory changes at the national level, through the International Labor Organization at the global level, and elevating domestic workers as key leaders in building a powerful movement for social and global justice. The Alliance formed in 2007 at the US Social Forum and currently represents 60 affiliates, 3 chapters and thousands of individual domestic worker members in 36 cities and 20 states nationally.
We Dream in Black (WeDIB) is a new initiative of the NDWA that organizes Black domestic workers across the diaspora, and builds our capacity to shape a new economy and a new democracy for all of us. WeDIB works with existing member organizations of the NDWA, and initiates new organizing projects in regions that have high concentrations of Black domestic workers.
Our existing membership is in Georgia, Florida, Massachusetts, New York, North Carolina, Texas, and Washington.
"We Dream in Black" is hiring a Field Lead to help expand our organizing strategy to build a voice for Black domestic workers. The overarching goals of our new "We Dream in Black" Worker Organizing Program include:
Grow a network of Black domestic workers who can lead within a movement for a new economy and a new democracy.

Explore new partnerships that can increase fertile ground for powerful victories for Black women workers.

Launch a multi-state, multi-city network of grassroots partner organizations.

Build leadership and increase the skill set of emerging black leaders to uplift and address the issues faced by Black communities.
Primary Responsibilities:
Recruitment of new members through canvassing in the local community, outreach at events and worksites, personal visits, list building with members, and phoning;

Retention of members through planning and organizing membership activities; consistently involving workers and supporters in the organization, and increasing their commitment;

Support NC State Lead Organizer in execution of organizing plan, base building, member development, relationship building and reaching attendance goals for trainings and meetings;

Responsible for Raleigh and Durham chapters' growth, retention, and internal culture;

Increasing members' leadership skills and tools and implementing regular workforce development programs;

Implementing and running internal membership apprentice programs;

Maintenance of data tracking systems and reporting; and

Support NC State Lead Organizer in cultivating new chapters across state.
Qualifications:
Highly motivated individual with a passion for engaging communities

Ability to work regular nights and occasional weekends

2-3 years applicable work experience

Strong relational skills and ability to connect, engage, and inspire community members

Strong facilitation skills

Strong and effective communicator

Basic computer skills: (i.e. Microsoft Word, Excel, PowerPoint)

Demonstrated leadership experience

Hard-working and self-disciplined

Ability to work well with a team and agitate others to take action

Ability to create political education and organizing skills building material and facilitate trainings

Ability to identify potential leaders and build their skills to advance through different levels of leadership

Excellent interpersonal skills and ability to work with people from diverse backgrounds and cultures

Ability to work well under pressure and manage time efficiently

Knowledge of issues affecting Black domestic workers nationally and locally

Position requires travel throughout the Triangle area. Candidate must have their own car, a valid NC driver's license and proof of insurance.
Position: Full-time with a 3-month probationary period; a 2-year commitment is expected
FLSA Status: Exempt
Location: Durham or Raleigh, NC
How to Apply
Please submit your résumé and cover letter here. Applications will only be accepted electronically.
Women, People of Color, People with Disabilities and LGBTQ people strongly urged to apply.
APPLY HERE!
WHEN APPLYING: Be sure to indicate that you saw this information at UNIONJOBS.COM.