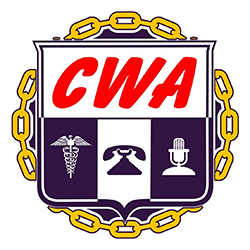 Communications Workers of America, Local 1104

Upstate Organizer
Graduate Student Employees Union
Based in Buffalo, Binghamton, or Syracuse, NY

The Graduate Student Employees Union, Communications Workers of America Local 1104 represents over 4,000 Graduate Student Teaching Assistants and Graduate Assistants throughout the SUNY system. Our members are concentrated on four University centers; SUNY Albany, SUNY Buffalo, SUNY Binghamton, and SUNY Stony Brook – as well as spread throughout 16 College campuses and Medical centers. In total we represent Graduate Student workers on 20 SUNY campuses.
We are run by and for graduate students, and we constantly work to improve our collective research and our living and working conditions. We work to maintain and extend our benefits, wages, and rights. We recognize that graduate student teaching and research lie at the heart of a great public university, and we believe that as our conditions improve, so, too, will the strength of SUNY. We are committed to organizing more members and strengthening our union.
We are seeking an Organizer to work out of Buffalo, Syracuse or Binghamton to focus on organizing the upstate SUNY campuses.
Key responsibilities:
Initiate and pursue organizing leads among graduate student workers on multiple SUNY campuses

Assess, identify, recruit, and develop graduate student workers into activists

Work with local campus leadership, including part time campus organizers to develop and grow campus membership

Work with local leaders to identify and encourage local members to participate in organizing campaigns and build support for organizing.

Work with campus leaders to organize meetings, plan agendas, and develop local organizing campaigns

Work with local leadership and lead organizer to plan and implement organizing blitz's

Track, compile and analyze campaign data in a systematic way.
A qualified candidate will have:
A strong commitment to social justice and labor

Have a solid working knowledge of systematic organizing: ability build a committee, move people to action, analyze, and share information about a campaign.

Excellent communication and relationship-building skills.

The creativity and motivation to develop leaders and activists

Be able to communicate effectively and establish a rapport with workers of diverse backgrounds and demographics.

An understanding of Higher Education Organizing

Ability to plan one's own work as assigned; make and execute daily, weekly, and monthly work plans based on assigned goals and objectives.

1-2 years organizing experience preferred
Application Deadline: Please apply immediately; position will likely begin in February.
How to apply:
Please send a résumé, cover letter and two references to: emandell@cwa1104.com.
WHEN APPLYING: Be sure to indicate that you saw this information at UNIONJOBS.COM.