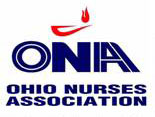 Ohio Nurses Association

Lead Organizer
Based in Columbus, OH

Salary and Benefits:
Salary to be commensurate with experience and qualifications. Annual salary range for the Lead Organizer position is between $68,978.52 - $88,036.01. Fringe benefits include paid vacation, sick leave, health insurance, paid holidays and retirement plans, including 401(k). This position is located in ONA Headquarters.
Description:
We have a unique, exciting and immediate opportunity for an individual with considerable experience in directing successful organizing campaigns and assisting in building an effective and sustainable statewide organizing program. This individual will lead other organizers and other staff in achieving our organizing goals of building strong member-driven local units and growing the Ohio Nurses Association. We offer a stimulating environment in a powerful union that encourages and develops active rank-and-file leadership.
Responsibilities
Working in collaboration with the Deputy Executive Officer to plan and execute an overall organizing strategy for the Association. Specific responsibilities include:
Assist with the direction of the union's organizing program from targeting non-unionized healthcare facilities, to working with leadership to develop highly functional, solution driven local units.

Mentoring staff and member leaders in all aspects of organizing

Overseeing the day-to-day operations of the campaign(s)

In collaboration with the Deputy Executive Officer, evaluates campaign status

Lead debriefing of organizing staff and Labor Representatives

Ability to write and conduct trainings for member leaders and organizing staff

Ability to make effective recommendations as to development of campaign calendar(s).

Other duties as assigned.
Qualifications:
Significant experience in the labor movement, including a minimum of five (5 years union organizing experience with increasing responsibility.

Working experience managing organizing campaigns.

Successful conflict management experience and a track record for achieving results.

Demonstrated experience in developing and managing large bottom-up union organizing campaigns against major anti-union consultants;

Experience in training and directing organizers and member leaders;

Experience in managing strikes;

Experience in working as a lead organizer on bottom-up organizing campaigns, and building rank-and-file organizing committees;

Commitment to social justice;

Ability to communicate well, both verbally and in writing;

Ability to establish close relationships with people from different cultural and economic backgrounds;

Ability to manage multiple priorities, work efficiently and be well organized;

Values and commends attention to detail;

Personal commitment to exceptional work ethic;

Commitment to travel both in state and nationally as required by the position ;

Valid, unencumbered driver's license;

Preferred – experience specific to healthcare organizing.
Physical Requirements:
Regularly uses a telephone and e-mail system for communication.

The person in this position frequently communicates with coworkers and Association contacts who have inquiries. Must be able to exchange accurate information in these situations.

The person in this position needs to occasionally move about inside the office to access file cabinets, office machinery, etc.

The person in this position must be able to drive a car.

The person in this position frequently operates a computer and other office productivity machinery, such as a calculator, copy machine, and computer printer.

This person frequently travels out of the office and drives to locations in close proximity or several hours away and must be able to transport a variety of boxes, bags and materials.

Light work – Exerting up to 20 pounds of force occasionally and/or up to 10 pounds of force frequently, and or a negligible amount of force constantly to move objects. If the use of arm and/or leg controls requires exertion of forces greater than that for sedentary work and the worker sits most of the time, the job is rated for light work.
Authority and Relationships:
Works under minimal supervision. Reports to the Deputy Executive Officer-Labor Relations.
To Apply:
Interested Candidates send résumé to: jobs@ohnurses.org.
WHEN APPLYING: Be sure to indicate that you saw this information at UNIONJOBS.COM.