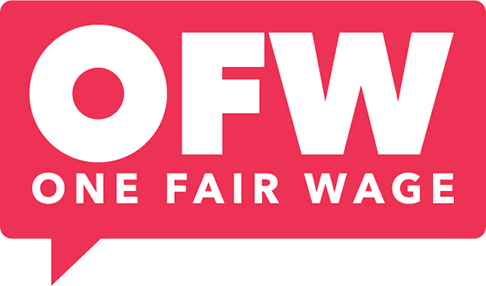 One Fair Wage

Northeast Regional Lead Organizer
Covering campaigns in MA and NY

ABOUT ONE FAIR WAGE
The One Fair Wage campaign is a national campaign to eliminate the subminimum wage for 6 million tipped and other subminimum wage workers across the country through state and federal law. Originally founded by the Restaurant Opportunities Centers (ROC) United, a national restaurant workers' organization, as the majority of tipped workers work in restaurants, the campaign has spun off into a broader, separate entity that is fighting for a full, fair wage for all tipped and subminimum wage workers, including tipped delivery workers and drivers at app-based companies. Today, One Fair Wage legislation is moving multiple states and in Congress.
We are looking for a Lead Organizer to manage the One Fair Wage policy campaigns in the Northeast Region – including New York and Massachusetts in 2020, and other states like New Jersey and Vermont in future years. The Lead Organizer will re-build coalitions and organize tipped and subminimum wage workers to build and demonstrate the low-wage worker power needed to win One Fair Wage in these two states.
One Fair Wage Northeast Regional Lead Organizer Responsibilities:
Lead the One Fair Wage campaigns in NY and MA, including leading a local coalition in each state of organizations representing various tipped worker sectors, developing and implementing a legislative targeting strategy, conducting press events and other communications efforts, and more.

Lead worker mobilizations in each of these states that target key legislators and demonstrate worker power to win One Fair Wage.

Represent One Fair Wage to other institutions, press, and priority relationships and lead local implementation of national communications and mobilization plans.
The Lead Organizer position is intended to be a senior-level, experienced position. The Lead Organizer will report directly to the National Policy Campaign Director.
QUALIFICATIONS:
5-7 years labor/community member organizing and base-building experience;

Experience in coalition building, and understanding of member leadership development;

Experience in designing and implementing policy and policy campaigns;

Maintenance of a professional attitude and strong ethical practice and a willingness to learn and grow

Strong communication, leadership, and management skills;

Willingness to travel – mostly throughout the states of NY and MA, and periodically elsewhere in the country

Demonstrated commitment to racial, social, and economic justice; and significant experience working collaboratively with persons of diverse racial and ethnic backgrounds, socioeconomic status, ages, and sexual orientations

Restaurant work experience a plus; and

Fluency in another language preferred.
Women, people of color, and immigrants strongly encouraged to apply.
TO APPLY
Please send résumé and cover letter to John O'Keefe at: johnpokeefe@hotmail.com.
John O'Keefe
O'Keefe Search
336-350-8337
johnpokeefe@hotmail.com
O'Keefe Search is dedicated to building strength in progressive organizations and to helping social justice, labor, environmental and other progressive activists find the right job.
John O'Keefe has specialized in recruiting for positions in the labor and progressive movement for over fifteen years.
Prior to spending five years as Recruiting Director for 1199 SEIU United Healthcare Workers East, the largest and one of the most progressive local labor unions in the United States, he spent many years helping high tech companies grow and was acknowledged as one of the top recruiters in the United States. Besides running a highly successful search firm, he served as the President of the Texas Association of Personnel Consultants, the largest state association in the industry and as President of the Pinnacle Society, an organization of the top 75 recruiters in the United States.
WHEN APPLYING: Be sure to indicate that you saw this information at UNIONJOBS.COM.