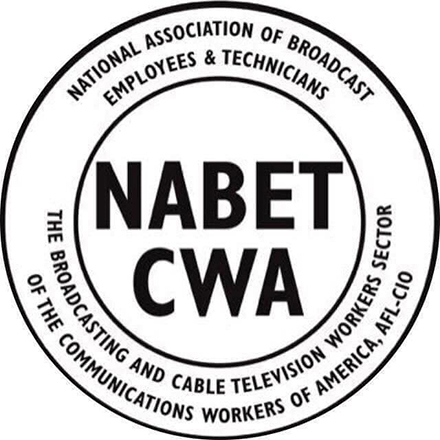 NABET–CWA
National Association of Broadcast Employees and Technicians
Communications Workers of America

Campaign Lead
Based in either Washington, DC, or Atlanta GA (with travel)

The Communications Workers of America (CWA) is a dynamic, member-led union that is building a movement for social and economic justice. CWA seeks a highly experienced and motivated Campaign Lead to serve as a lead organizer on a campaign at a large employer with multiple locations around the country, primarily on the east coast.
The position is initially slated to last a year but is subject to possible extension.
The ideal candidate will have experience running large organizing campaigns with professional workers and have the organizational and strategic skills necessary to inspire and activate workers to take action.
The position will report to the CWA Organizing Director, The NewsGuild-CWA Senior Campaign Lead, and the NABET-CWA Sector President. The position can be based in either Washington, DC, or Atlanta GA and involves regular travel.
Job Qualifications
Willing and able to take regular direction and learn from experienced campaign staff

Willing to commit energy, heart, and long, irregular hours

Able to learn and implement the campaign basics

Be able to take notes, listen and get information/report back to District Organizing Coordinator or other campaign leadership to evaluate campaigns

Able to coordinate and track different components of a large, multi-city organizing drive

Comfortable working with professional workers

Able to train and develop member organizers through side-by-side work

Able to assess workers' support of the campaign, identify potential committee members, move workers to make concrete commitments and take action, recruit people to a committee, facilitate committee meetings, work with groups.

Understand and discuss issues in a way that contribute to the momentum of an organizing campaign

Willing to attend an Organizing Institute

Have a fundamental commitment to building a diverse and democratic labor movement and ability to organize workers from diverse backgrounds and demographics

Patient in pressure situations and savvy with conflict management

Utilize numerous organizing tactics including home-visiting, cold phone calling, hand billing, etc.

Motivated self-starter able to learn and troubleshoot without heavy supervision

Along with campaign leadership, be able to work effectively with committee members and assist with moving campaigns forward, keep the organizing committee on track, motivate them to move through roadblocks and be public when it is time

Driver's license and reliable car, must be able to travel to work locations away from home/office location

Basic communications skills, able to do basic flyers and other written material

Strong social, written and verbal communication skills

Bilingual, a plus

1-2 years of prior labor organizing experience
Responsibilities when employed in an Organizing campaign:
Capable of running campaigns with minimal assistance, motivate and dig out committee members, work in a team with other organizers involved in the campaign

Give organizing committees a realistic assessment of progress and inoculate them

Be able to communicate effectively in writing, in speaking, and via electronic media. Be able to work with databases, able to do basic flyers and other written material

Work with the local to help identify and encourage others in local to participate in organizing campaigns and build support for organizing

Submit reports as required, but at least monthly

Must be able to work on projects to build the local, but also be able to assist in national and district organizing projects.

Be heavily involved in major National and District Organizing Priority campaigns

Able to function as a trainer at an Organizer Institute and train organizing

committee members

Work with locals on National and District priority campaigns and help local organizers

Travel to work locations away from home and work location by car and plane to locations as needed

Computer skills that allow at least intermediate-level data management and communication
Job Specifications:
Wages: $67,388 – $85,510 Annually (Effective 10/1/2019)

Reports to the CWA Organizing Director or appropriate administrative staff
To Apply:
Interested candidates please submit résumé online at:
https://www.paycomonline.net/v4/ats/web.php/jobs/ViewJobDetails?job=33123&clientkey=3DD4D8AF8C58AF2A4AA4B0629E6428E9
CWA is an equal opportunity employer, and, as such, does not discriminate an employee or applicant on the basis of race, creed, color, age, sex, national origin, marital status, sexual orientation, gender identity, religious affiliation, disability, or any other classification protected from discrimination under applicable law.
WHEN APPLYING: Be sure to indicate that you saw this information at UNIONJOBS.COM.