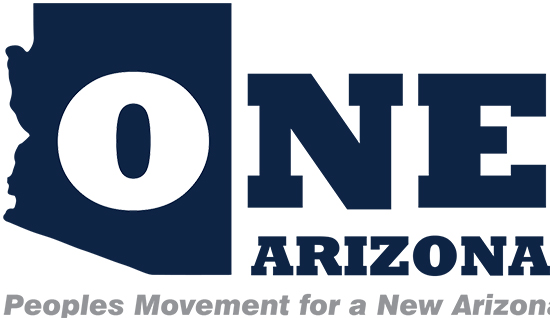 One Arizona



Program Coordinator (Tucson)
Based in Tucson, AZ
This is the biggest voter registration drive in Arizona's history, come join our team to help shape the future of our state!
One Arizona is seeking a full-time Program Coordinator to build and maintain relationships with key partners to amplify their work in the community.
The ideal candidate will have a proven ability to foster coordination and cooperation among diverse groups. They will be committed to getting results in a fast-paced environment and able to handle a heavy workload without dropping the ball. This position provides an opportunity to impact Arizona's electoral and voting climate and build political power for people of color.
About One Arizona
One Arizona was formed in 2010 as a direct response to the growing disenfranchisement of voters and to the attack on our Latino community in the form of SB1070. Since our founding, One Arizona has worked under a successful collaborative format on civic engagement efforts in statewide, gubernatorial, and municipality based election seasons. The table members represent a broad tapestry of 501(c)3s focused on voter registration, voter engagement, voter mobilization, election protection, and issue advocacy.
The boom in the Latino population, combined with concerted and wide-ranging efforts to increase Latino voter registration and participation, have begun to shape the results the local, state and national elections.
Job Responsibilities
The Program Coordinator, reports to the executive director, is responsible for the following:
Facilitating working groups comprised of One Arizona partners to reach coalition goals.
Researching issues (e.g. democracy, census, social justice) relevant to the coalition's core mission and identify local experts to provide education to partners and the community
Monitoring program activities and consolidate into quarterly reports describing capacity, execution and gaps in coalition partner work.
Collaborate with our communications partner to create messaging and identify the best tools and vehicles for delivering messaging throughout the state
Coordinate training and provide materials for coalition organizers and volunteers to build capacity, performance, and professionalism.
Administering student voter registration programs.
Qualifications
We're seeking candidates who excel in relationship-building, are results-oriented, and have strong project management skills. You should have:
A track record of developing and maintaining strong working relationships with and among a diverse group of stakeholders
A demonstrated commitment to meeting a high bar and a history of getting things done even in the face of obstacles
Experience coordinating multiple projects and ensure partner participation
Bilingual fluency in English and Spanish and prior experience doing movement work are both plusses but are not requirements.
Timeline:
Review of résumés will begin immediately. The position is guaranteed until November 2020.
Compensation:
This position is full time with a salary of $35,000 to $45,000 per year with most candidates starting at the beginning to middle of the salary range.
How to apply:
Please send a résumé to Mary Chlan, at: mary@onearizona.org.
WHEN APPLYING: Be sure to indicate that you saw this information at UNIONJOBS.COM.