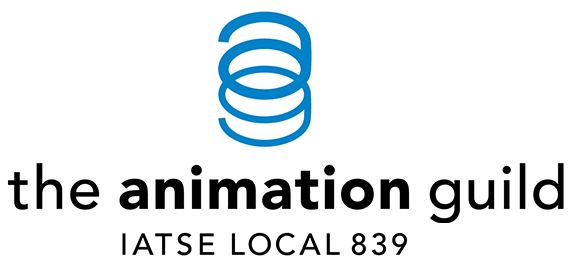 The Animation Guild
IATSE Local 839

Field Representative
Based in Burbank, CA
The Animation Guild, IATSE Local 839 (TAG) represents over 4,500 Los Angeles artists, technicians, and writers working in animation. We have a current opening for a Field Representative. The Field Representative works under the direction of the Business Representative and is responsible for daily visits to work locations to meet with members throughout the greater Los Angeles area.
We are looking for energetic, hard-working staff who are committed to real change, who believe in the value of work and the rights of creatives and who want to be part of the team that wins for workers, their families and their communities. This position will be required to work evenings and weekends. Not a '9 to 5' job. You will be on the front line as an advocate and ambassador of the Animation Guild.
Responsibilities Include:
Driving to work locations throughout the greater Los Angeles area on a daily basis;
Visiting TAG members at their work locations including at studios, offices and on location;
Helping staff picket lines and outreach to members and potential members during organizing drives;
Assisting the Business Representative in investigating potential contract violations;
Helping to identify contract violations or other potential issues facing TAG members at work;
Assisting with researching, mapping and tracking employment in TAG crafts;
Developing member leadership structures at worksites, including identifying and recruiting activist members;
Educating members on the terms and conditions of the Collective Bargaining Agreements;
Maintaining accurate records of activities, including a calendar (which accurately documents past, present and future activities, visits and appointments in connection with work as a field representative) as well as activity reports;
Connecting with counterparts at other unions to share best practices and information in support of collective bargaining efforts;
Such other duties as assigned by the Business Representative.
Skills, Knowledge and Abilities:
Willingness to drive daily throughout the greater Los Angeles area;
Ability to understand contractual issues covered by the IATSE and TAG Collective Bargaining Agreements;
Enjoy constant outreach and interaction with union members and potential members;
Well organized and ability to work independently;
Excellent written and spoken communication skills;
Ability to keep detailed notes of discussions with members;
Good listener, enjoys meeting with people;
Ability to speak professionally to line management;
Proficient in Microsoft Excel, Word, and Outlook;
Familiarity with online social media;
Able to keep information confidential;
Able to exercise good judgement and quickly adapt to differing, complex workplace situations and cultures;
Excellent interpersonal skills required.
Experience:
Experience in union organizing and representation, preferably with an entertainment union or guild.
Related experience will be given consideration as will industry experience in the craft.
Experience in political organizing / campaigning a plus.
Requirements:
Travel to training sessions and union meetings.
Must possess a valid California driver's license, must pass a DMV check and have and maintain a good driving record, and must possess an automobile for business use.
Will be required to maintain auto insurance that covers business driving (minimum coverage of $100,000 per person/$300,000 per incident of bodily injury liability/$100,000 property damage liability, and list The Animation Guild, IATSE Local 839 as an 'additional insured' or 'interested party' in order to trigger notification in the event the policy is cancelled).
Pay Rate and Benefits
The current salary range is $73,216.00 – $96,948.80 based on qualifications and experience. The Animation Guild, IATSE Local 839 offers excellent benefits through the Motion Picture Industry Pension and Health Plans.
To Apply
To be considered for this position, please submit a résumé, three professional references, and a writing sample to: jobs@tag839.org, with the subject line "Field Representative Role". Please send PDFs, other document formats will be discarded.
This position is open until filled; however, the posting/acceptance of applications may close at any time. No recruiters or phone calls please.
Located in Burbank, CA, the Animation Guild, IATSE Local 839 has represented animation artists, technicians and writers since 1952. We negotiate wage minimums and working conditions, provide pension and health benefits (specifically through the Motion Picture Industry Pension and Health Plan) and act as an advocate for our members over disputes between employees and employers. Read more at www.animationguild.org.
Affirmative Action Employer
The Animation Guild, IATSE Local 839 is an affirmative action employer and encourages applications from all qualified candidates regardless of race, ethnicity, age, sex, sexual orientation, marital status, religion or disability. TAG works to ensure fair treatment of applicants and employees and actively enforces policies against discrimination and sexual harassment.
The Animation Guild, IATSE Local 839 is an equal opportunity employer and is committed to the principle of diversity and is particularly interested in receiving applications from a broad spectrum of people.
WHEN APPLYING: Be sure to indicate that you saw this information at UNIONJOBS.COM.