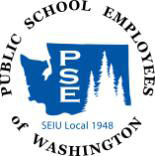 Public School Employees of Washington
SEIU 1948

Member Engagement Specialist
Based in Spokane, WA
Overview of Responsibilities:
This is a highly responsible position that develops and carries out all programs to grow union membership, promote member participation in PSE activities and support internal organizing campaigns. This position builds union power through member development, recruitment, and retention. Must understand all aspects of organizing including managing territory, activating and developing members, planning and running meetings and committees, and developing a schedule and communication plans. Implements and maintains effective member-based new hire sign-up programs.
Description of Duties:
Assumes primary responsibility for maintaining chapter membership and sign-up rates at target levels, as determined by PSE management.
Conducts house and work site visits, and other means of contacting members including phone, text, and email. Follows the approved "rap."
Identifies opportunities for growth and works with Direct Member Services team to develop strategies, including long and short-range plans.
Promotes PSE's COPE and Member Experience programs.
Assists in the development and deliverance of education and training programs curriculum.
Works independently balancing conflicting demands, carrying out tasks and plans in a competent and professional manner in keeping with PSE's overall goals and expectations.
Promotes and works toward the accomplishment of PSE's mission within the parameters of the adopted values, policies and procedures.
Refers members to appropriate field staff on job-related issues including grievances, disciplinary matters and other situations involving wages, hours and working condition disputes.
Position requires extensive travel in the course of the job, often working long and irregular hours, weekends and holidays and may be assigned to work away from home for extended periods of time, including possible out-of-state travel.
Collaborates with other PSE staff on projects and campaigns.
May participate in external union organizing campaigns.
Performs other duties as assigned and directed.
Qualifications and Skills:
A high school diploma is required. Possession of a bachelor's degree in labor relations, business administration, public administration or education preferred.
Excellent written and oral communications skills.
Ability to listen effectively and be responsive.
Ability to prioritize and organize work effectively.
Ability to establish and maintain effective working relationships with a variety of people in a multi-cultural, diverse socio-economic setting.
Knowledge of the public education system, labor organization, labor law, and contemporary labor relations trends, issues and practices.
Ability to be flexible and adapt to changing and unexpected conditions.
Ability to work well under pressure and meet deadlines.
Regularly required to use standard office equipment. Attend meetings, siting and standing intermittently. Must be able to lift 10 pounds or less.
This is a salary position. Hours will vary daily according to member needs. Frequent late afternoon/evening meetings will be required. Periodic weekend hours will be required.
Travel for meetings and conferences will be required.
Salary Range: $50,930.08 – $81,068.37
Send Résumé Here: applications@pseofwa.org
Equal Opportunity Employer
WHEN APPLYING: Be sure to indicate that you saw this information at UNIONJOBS.COM.