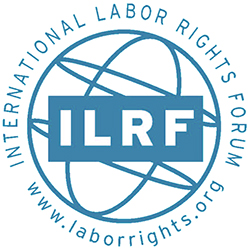 International Labor Rights Forum

Executive Director
Based in Washington, DC
The Board of the International Labor Rights Forum (ILRF), a 34-year old non-profit based in Washington, D.C., seeks an Executive Director to lead the organization. The ideal candidate would be available to start on or before June 1, 2020. The deadline to apply is April 30, 2020, but applications will be considered as they are received.

ILRF is a human rights organization with a budget of almost $2 million a year, dedicated to promoting dignity and justice for workers in the global economy. More information about ILRF is available at www.LaborRights.org.

To Apply:
Please send résumé, cover letter, and a writing sample to the ILRF Board, at asukthankar@unitehere.org.

Preferred Qualifications:
Detailed knowledge of international human rights, international labor standards, and issues affecting workers in globalized industries.
A commitment to movement building and grassroots organizing. An understanding of global labor movements, especially trade union movements in the Global South, strongly preferred.
A post-graduate degree in law, development, human rights or other relevant field.
Extensive experience managing in the social justice sector. Experience managing in a unionized staff environment strongly preferred.
Fluency in English required. Proficiency in another language or other languages strongly preferred.
Strong track record of non-profit fundraising from a diversity of sources.
Experience developing and implementing advocacy strategies, including experience producing high-quality written material.
Willingness to travel extensively, both domestically and internationally.
Commitment to anti-oppression principles and practice, and experience and sensitivity in working in multicultural, multiracial environments.
Responsibilities of the Executive Director will include:
Strategic Leadership and Positioning:
Play a leadership role with Board, staff, and allies to continuously evaluate opportunities and generate effective strategies in the context of changing landscape and evolving issues in this field, consistent with the ILRF's mission, vision and values.
Represent the organization in public fora, and guide relations with allies in the field.
Fundraising:
Cultivate and manage funder relations, including with an engaged network of individual donors.
Administration:
Organizational planning, monitoring and evaluation.
Financial management (including developing and managing program budgets).
Board Relations:
Engage and convene a Board of trade unionists, non-profit leaders, faith leaders, and other committed social justice activists to further the work and stature of ILRF.
Salary and Benefits: from $100,000 to $120,000 depending on experience. Benefits include health, dental, and vision insurance; paid holidays, vacation, and sick leave; SIMPLE IRA plan; and transportation reimbursement.

The ILRF is an equal opportunity employer and actively recruits women, people of color, persons with disabilities, and persons with diverse gender and sexual identities.
WHEN APPLYING: Be sure to indicate that you saw this information at UNIONJOBS.COM.