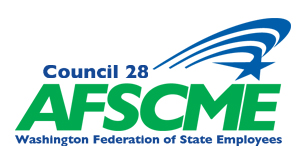 AFSCME Council 28
Washington Federation of State Employees

AFSCME Strong Data Coordinator
Based in Olympia, WA
Who We Are:
The Washington Federation of State Employees (WFSE) has a long history of fighting for workers' rights and employee benefits while tackling social justice issues with passion and energy. The WFSE, Council 28 has been operating in the state capital for over 75 years and our staff fight for fairness and equality as well as ensuring the hard working men and women of state government, higher education institutions, and public service workers get better pay, better health care, better retirement, and a healthy work environment. There's more to accomplish, and with the right personnel, we believe we can accomplish it. Come join our team and be a part of a larger mission that will make an impact for years to come. Learn more about who we are at: wfse.org.
What We're Looking For:
The Washington Federation of State Employees (WFSE) is recruiting to fill the position of AFSCME Strong Data Coordinator. This position works in collaboration with the Executive Director in determining the organizations operational priorities and ensures their effective execution. As part of the Executive Leadership Team, this position is critical to help identify the strategic direction, vision, and mission through data-driven decision-making, and is a key partner to implementing that strategy by ensuring that data objectives are met across the organization.
This position is technically advanced and understands how to use data to implement operational decisions. The AFSCME Strong Data Coordinator oversees and works in collaboration with the Data Administration team, and other departments within the organization. The incumbent will prepare WFSE data program analysis and make strategic recommendations on how best to achieve the union's goals. Additional duties include:
Administer, support, and train users on VAN.
Monitor VAN usage and ensure all activities conform with WFSE policies on data integrity and member list security.
Assist WFSE staff in developing best practices to accurately measure progress toward organizing.
Assist in reporting and presentation of data from WFSE data systems as needed.
Manage exports, uploads, and VAN data hygiene.
Oversee VAN integration with other data tools and systems.
Identify opportunities to improve data efficiency by streamlining processes and eliminating redundancy.
Make recommendations and oversee implementation of data system integration.
Identify new data tools and make recommendations for their usage and adoption.
Provide data and technical guidance on internal and external organizing campaigns.
Work with WFSE staff to establish best practices and standards for data acquisition and preservation.
Required Qualifications:
Five (5) years of experience using data in an organizing environment.
Experience in data analytics.
Extensive experience with VAN and other labor database platforms.
Ability to: work with people, convey instructions to others, and supervise and train staff.
Good written and oral communication.
Ability to communicate and train technical subjects to non-technical individuals.
Desired Qualifications:
Knowledge and experience with the AFSCME Strong program.
Experience working for a public and/or private sector labor union.
Special Note:
This position is overtime exempt and may be required to work some weekends. Travel is normally limited to the assigned area of responsibility. Benefits include annual and sick leave, cell phone allowance, medical/dental, life, and long term disability insurance, and holidays. Salary range is $88,338 – $102,262 and will be determined commensurate with experience.
How to Apply:
To be considered for this position(s), applicants must submit a résumé, letter of interest, and at least three (3) professional references to: resumes@wfse.org. Your letter of interest should clearly explain how your experience, training, and education make you a viable and competitive candidate for this position.
This position is open until filled; however, first round of application assessments will be conducted fourteen (14) days after the initial job posting date. It is to the applicant's advantage to apply as early as possible.
The Washington Federation of State Employees is committed to providing equal employment opportunity and equal access in a non-discriminatory manner to its programs and services for all persons without regard to race, creed, color, marital status, gender, sexual orientation, religion, age, national origin, political affiliation, honorably discharged veteran or military status, or the presence of any real or perceived sensory, mental, or physical disability.
Persons requiring accommodation in the application process or for an alternative format may contact the Human Resources Director, Ben McDonald at (360) 352-7603 or benm@wfse.org. Persons of disability or those who are deaf or hard of hearing can call the Washington Relay Service by dialing 7-1-1 or 1-800-833-6388. The WFSE complies with the employment eligibility verification requirements of the Federal Form I-9. The selected candidate must be able to provide proof of identity and eligibility to work in the United States consistent with the requirements of that form on the first day of employment.
WHEN APPLYING: Be sure to indicate that you saw this information at UNIONJOBS.COM.