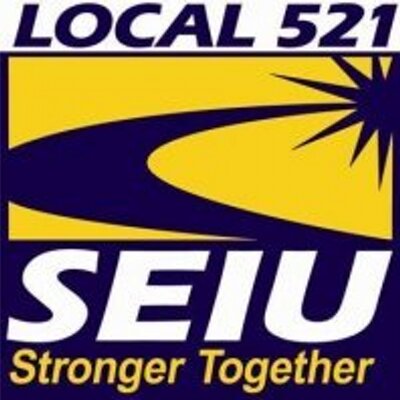 SEIU Local 521

Contract Enforcement Specialist
Based in Salinas, CA
SEIU Local 521 was founded in 2007 when 5 local unions came together in the Bay Area, Central Coast and Central Valley to form one larger, more powerful union. Together our members are building a true 21st century union fighting to empower and improve the lives of our members. We represent over 50,000 public service workers in cities, counties, courts, schools, private non-profits, special districts, and public health care.
AT SEIU LOCAL 521: Our mission is to provide our members with a voice in the workplace, in their union and in the larger community. Through our actions, we intend to create a more just and humane society. We are committed to protecting and improving the lives of workers and their families. We will work to improve and protect the services we provide to our communities. We believe that by working together as a united front, we can win better contracts and build industry power in our region.
CONTRACT ENFORCEMENT SPECIALIST Under direction of the Contract Enforcement Director or his/her designee, to process advanced level grievances, arbitrations, and classifications for the Local Union.
RESPONSIBILITIES: All duties listed are required and not limited to but may or may not be continuously performed or ongoing at any specific time. This list is not all inclusive:
Represents the union in grievances at the pre-arbitration and arbitration levels (includes backlog panels, personnel boards, and adjustment boards), including scheduling meetings and hearings with employers; preparing files; meeting with members and stewards to gather supporting documentation; striking arbitrators; researching cases, precedent decisions, and bargaining history; prepping witnesses; presenting cases; and working with attorneys.
Represents the union in classification studies, including training teams; researching comparables; writing and presenting proposals; negotiating agreements; and meeting with workers to discuss reclassifications.
Coordinates the Local 521 Grievance/Discipline Appeals panel, including recruiting and training panel members, preparing paperwork related to appeals, facilitating hearings, working with Worksite Organizers, appellates, and Stewards to prepare cases.
Trains rank-and-file Stewards in all the above.
MINIMUM QUALIFICATIONS:
A minimum of three years experience with contract administration which will normally be obtained through experience as a union worksite organizer/field representative/business agent or attorney/paralegal. The experience in some situations may be obtained as a rank-and-file shop steward who has handled a significant number of grievances at advanced levels in the procedure.
Excellent verbal and written communication skills.
Knowledge of public and private sector labor laws, contract interpretation and grievance/arbitration theory.
Experience handling classification studies and negotiations.
Strong organizational skills including the ability to keep accurate and detailed files.
Ability to work effectively with diverse group of workers.
Willingness to work long and irregular hours including weekends, evenings, and holidays.
REQUIREMENTS: Demonstrated commitment to the mission and values of SEIU Local 521. Must possess a valid California driver's license; must pass a DMV check and have a good driving record; must have auto insurance that covers business driving (minimum of $100,000 per person/$300,000 per incident bodily injury liability/$100,000 property coverage); and must possess an automobile for business use.
COMPENSATION AND BENEFITS: Salary commensurate with experience. SEIU Local 521 employees enjoy top notch benefits including fully employer-paid family health, dental and vision insurance; a generous leave package; fully employer-paid defined benefit pension plan; 401(K); flexible savings accounts for annual health and childcare expenses; $200,000 life insurance plan; and other benefits outlined in the policies of SEIU 521.
TO APPLY: Send email with cover letter and résumé to: jobs@seiu521.org. Reference Contract Enforcement Specialist in the subject line.
This position is open until filled; however, the posting/acceptance of applications may close at any time.
AFFIRMATIVE ACTION EMPLOYER
Local 521 is an affirmative action employer and encourage applications from all qualified candidates regardless of race, ethnicity, age, sex, sexual orientation, marital status, religion, or disability. Local 521 works to ensure fair treatment of applicants and employees and actively enforces policies against discrimination and sexual harassment.
WHEN APPLYING: Be sure to indicate that you saw this information at UNIONJOBS.COM.