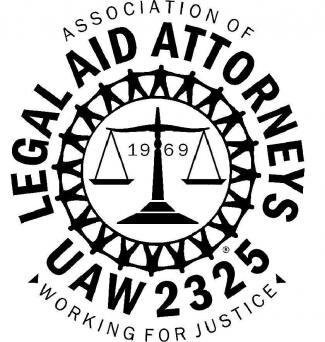 Association of Legal Aid Attorneys
UAW Local 2325

Bargaining Representative
Based in New York City, NY
Job Title: Bargaining Representative
Status: Full-Time, Temporary
Length of Term: 9-12 months, with possibility of permanent extension.
The Association of Legal Aid Attorneys - UAW Local 2325 is seeking a temporary Bargaining Representative to join our team, with the possibility of permanent extension. Every day, our members fight for justice for low income New Yorkers, and for themselves to have equitable pay, benefits, and safer working conditions. ALAA combines organizing, legislative, and legal advocacy to effectively represent over 2,000 public interest attorneys and staff across New York City. In the past three years, our union has grown from four units to seventeen units and membership has doubled. We currently have one organizer on staff but there are several newly organized shops that are in first contract negotiations. We are seeking someone with collective bargaining experience who shares our vision for empowering workers in a strong labor movement.
The ideal candidate is able to take initiative and advocate for the needs of membership in coordinated contract campaigns and reopening negotiations as needed. This position is responsible for supporting bargaining committees as they identify membership's key demands, draft strong contract language and counter proposals, and lead negotiation and dispute resolution with management. Each bargaining unit is different, but this position requires someone who can effectively represent members, but also identify and develop leadership within the union.
As a union, we have opposed the reopening of New York courts due to the COVID-19 pandemic. However, it is also necessary to identify members who can perform health and safety inspections and work with experts to develop safety plans to ensure that members are not harmed by management efforts to reopen offices, especially without proper precautions and planning. This health and safety training also requires drafting and reviewing information requests to demand accountability and transparency from management.
Primary Responsibilities:
Serve as lead negotiator bargaining first contracts for newly organized units.
Work with elected bargaining committees to develop and draft demands, contract language, initial proposals, and counter-proposals.
Organize membership mobilizations and develop a campaign strategy to win strong first contracts.
Leadership development and organizing of membership and bargaining committees.
Represent members in pre-contract disciplinary proceedings and reopening negotiations with management as needed.
Experience Required:
5-10+ years of collective bargaining experience as lead negotiator
Significant experience negotiating 1st collective bargaining agreements
Significant experience organizing membership mobilizations
Evening work and irregular hours required
Commitment to social justice and labor empowerment
Commitment to low-income communities and criminal justice issues.
This position will be remote until further notice, most likely for the duration of the employee's term.
Women and people of color strongly encouraged to apply.
Salary: Commensurate with experience.
To Apply:
To apply for this position, contact: ashalom@alaa.org.
WHEN APPLYING: Be sure to indicate that you saw this information at UNIONJOBS.COM.