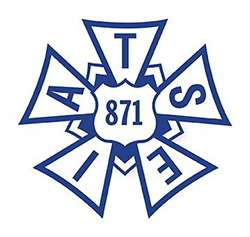 International Alliance of Theatrical and Stage Employees
IATSE Local 871

Business Representative
Based in Burbank, CA
IATSE Local 871 is seeking candidates for the position of Business Representative – Based in Burbank, CA!
IATSE Local 871 is a diverse local that is looking for a strong, passionate, and progressive leader.
We represent over 3000 members in the film/television/commercial crafts that are the backbone of the production and writing process. Ranging from Art Department Coordinators, Production and Assistant Production Accountants, Production and Assistant Production Coordinators, Script Coordinators, Script Supervisors, Stage Managers, Teleprompter Operators and Writers' Assistants.
The local has had significant growth over the last five years with the successful organizing of Script Coordinators and Writers' Assistants, bringing in over 600 new members.
To learn more about Local 871 and its members, please visit our website at: https://www.ialocal871.org.
SUMMARY STATEMENT:
The BUSINESS REPRESENTATIVE acts as the chief agent and representative for the Local in matters relating to collective bargaining agreements, contract negotiation and enforcement, workplace safety, membership advocacy and organizing, financial oversight and reporting, and other matters relating to the representation of its members and administration of the union. This position requires some travel as well as regular evening and weekend work.
The BR supervises a small and growing staff doing supportive work that ranges from our Assistant Business Representative to our office personnel.
The BR reports to the Board of Directors consisting of five Executive Officers and ten Directors.
QUALIFICATIONS:
Senior level experience representing unionized workers.
Knowledge in crafts within the entertainment industry unions such as IATSE, SAG-AFTRA, DGA, WGA, and PGA strongly preferred, as well as working knowledge of AMPTP.
Proven track record as a spokesperson in collective bargaining and being a bulldog negotiator with substantive labor gains in high-level contract talks.
Deep legal understanding and detail oriented on labor contracts and agreements.
Experience administering union contract enforcement and settling worker/production grievances (including arbitration and internal and external organizing).
Possess a high degree of diplomacy and engagement with members and have the ability to cultivate respectful, strategic, and collaborative relationships with people from diverse backgrounds, both internally and externally.
A Bachelor's degree or equivalent experience is required.
Effective verbal and written communication skills. -- Ability to work and thrive in a high-pressure environment.
Starting salary commensurate with experience and industry norms and an excellent benefits package provided.
TO APPLY:
Please submit via email a current résumé and cover letter detailing relevant skills and experience and three recent work references with contact phone information to be considered in the first review round to:
The IATSE Local 871 2020 BR Search Committee
BRsearch2020@ialocal871.org
Submissions due by November 6th, 2020.
Additionally, confidential discussions with search consultant Ken Margolies are possible at 845-499-6636 or Kam47@cornell.edu.
WHEN APPLYING: Be sure to indicate that you saw this information at UNIONJOBS.COM.