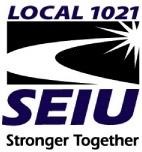 SEIU Local 1021

Finance Manager
Based in Northern California
SEIU Local 1021 was founded in 2007 when ten local came together in Northern California to form one larger, more powerful union. Together our members are building a true 21st century union, fighting to empower and improve the lives of our members. We are 60,000 strong – organizing and representing public service workers in cities, counties, courts, schools, private non-profits, special districts, public health care, and nursing. We are looking for energetic, hard-working staffs that are committed to real change, who believe in the value of work and the value of public services and who want to be part of the team that wins for workers, their families, and their communities.
Location: Northern California
Responsibilities:
Under general direction of the Finance Director, the Finance Manager (a.k.a Finance – Team Operations Leader) directs the activity of Finance and performs complex tasks within Finance. At this level, incumbents have first-line supervision over a wide variety of support functions with major operational responsibility for multiple support services. This class has day-to-day operational oversight of Finance. Monitors compliance with SEIU Local 1021 policies and procedures. This class is distinguished from the Operations Director level in the scope of the area covered and the focus on day-to-day operational needs.
Duties:
The following list of duties are intended only to describe the various types of work that may be performed and is not intended to be an all-inclusive list of duties. The omission of a specific duty statement does not exclude it from the position if the work is consistent with the concept of the classification, or is similar or closely related to another duty statement.
General Supervision Duties:
Supervises office support in their assigned area.
Assigns and monitors work within assigned area.
Handles more complex tasks within assigned area.
Identifies and makes recommendations to improve operational efficiencies, protocols and performance.
Adjust assignments when needed in response to unexpected staff absences, disruptions or work priorities.
Review and monitor each staff person's work (e.g., reviewing each office staff's work on a computer or observe how a staff worker deals with members and other staff).
Assess strengths and weaknesses of office staff and evaluate each worker's performance.
Identify inadequate or poor work performance and utilize counseling, training and when necessary, progressive discipline for improvement.
Meet regularly with staff to discuss their progress with projects and business improvement.
Interview and evaluate prospective office staff employees.
Provide orientation to acquaint new employees with the Union's organization and its operational routines.
Train new employees in organization and office procedures.
Implement and maintain performance and work activity reports for the purpose of and present date for use in planning or designing new policies or workflows.
Resolve interpersonal conflicts among office staff.
Ensure compliance of Staff Union contract provisions pertaining to assigned areas of responsibility.
Identify and make recommendations to the appropriate operations director to improve operational efficiencies, protocols and performance.
Research projects and communicate progress reports and potential problems to the Finance director.
General Accounting and Compliance Duties:
Develop and maintain organization's accounting policies and protocols ensuring GAAP and DOL compliance.
Maintain accuracy of organization's General Ledger through implementation and oversight of monthly close process including account analysis and monthly account reconciliation.
Prepare monthly schedules, financial reporting and ad-hoc financial analysis and/or reporting for various stakeholders.
Develop budget forecasting and related reports in collaboration with Director.
Assures that 1021 and legacy locals are in compliance with applicable rules, regulations and laws.
Works with consultants in the completion and filing of required documents including federal, state, county and local levels. Examples includes: Federal 990 tax return, DOL's LM-2, State 199 tax return, County business/Property taxes, and local business licenses.
Coordinates the work of accounting staff and others in the preparation for and execution of the annual financial audit and Hudson audit. Lead successful annual financial audit process through plan development and execution.
Monitors legacy accounting and the closure of legacy accounts.
Payroll Duties:
Biweekly Payroll Processing
Member Lost Time
Payroll Rate Changes
Leave Balance Tracking
Medical & Disability Leave Audits
Accounts Payable Duties:
Prioritizes and distributes invoices for payment.
Reviews, corrects and approves accounting codes and classifications of payment including general ledger accounts, LM-2 codes, payee, amount, etc.
Provides direct supervision, training and direction of accounting staff.
Interacts with a wide variety of vendors to maintain positive business relationships.
Interacts with members and staff to process payments.
Assures accounting practices of Local 1021 are operating under generally accepted accounting principles (GAAP).
Monitors VISA accounts and facilitates regular and special payments.
Assists Director with banking relationships and operations.
Works with accounting software vendor to assure efficient operation of accounting system.
Establishes procedures for accounting staff to assure accurate and timely recording of financial transactions.
Staff and Officer Expense Reimbursement Processing & Monitoring.
Mileage Reimbursement Processing &Monitoring.
Gasoline Credit Card Accounts.
Knowledge of:
Principles and practices of human resource Administration.
Health and welfare benefits administration.
Applicable state and federal laws and regulations.
Basic labor relation principles and practices in a collective bargaining environment.
Applications such as Word, Excel, ADP Workforce Now, Unionware or other Database, Great Plains.
Supervisory principles and practices including performance evaluation and assessment.
Skills in:
Analyzing technical information, evaluating alternatives and making sound, independent judgments within established guidelines.
Interpreting and applying laws, regulations and policies.
Preparing clear, concise and effective written reports, correspondence and other materials.
Training others in work procedures.
Establishing and maintaining effective working relationships with those contacted in the course of the work.
Minimum Qualifications:
Equivalent to graduation from a four-year college; For Finance Team Lead, a concentration or coursework in accounting required.
Four years experiences in specific program area.
Prior supervisory experience desirable, but not required.
High-level ability to communicate orally and in writing.
Ability to work well with others.
Proficiency with Windows, Word, Excel and ability to become proficient at other required computer programs.
Must possess a valid driver's license and a safe driving record and insurance required by the local.
To Apply:
Mail, fax or e-mail detailed résumé, three references and a letter of interest to Kathryn Ballard, SEIU Local 1021; 447 29th Street, Oakland, CA 94609, fax to (510) 893-2395 or email to: jobs@seiu1021.org. No phone calls please. The letter of interest must address the following:
Describe how your experience prepares you for the responsibilities specified in the job announcement.
Give examples from your work experience that demonstrates your mastery of skills and knowledge listed in the job announcement.
SEIU Local 1021 is an affirmative action employer and encourages applications from all qualified candidates regardless of race, ethnicity, age, sex, sexual orientation, marital status, religion, or disability. Local 1021 works to ensure fair treatment of applicants and employees and actively enforces policies against discrimination and sexual harassment.
WHEN APPLYING: Be sure to indicate that you saw this information at UNIONJOBS.COM.