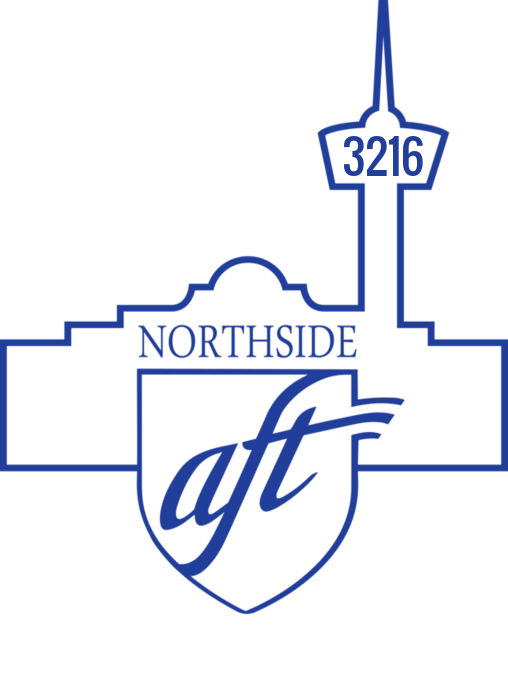 Northside American Federation Of Teachers

Full-time Organizer / Staff Representative
Based in San Antonio, TX
JOB OPENING: Full-time Staff Representative/Organizer
HOW TO APPLY: Please submit résumé, cover letter and at least three professional references to: info@northsideaft.net.
DEADLINE TO APPLY: Until filled.
Northside AFT is seeking full time Organizers/Staff Representatives in the Northside District, San Antonio, Texas. These positions are supervised by the Local President and Executive Board. Organizers/Staff Representatives report to the NAFT Lead Organizer. Organizer/Staff Representatives perform a number of duties, including recruiting new members, identifying potential leaders and activists, tracking data in their assigned areas, intake for problem solving on campuses, assisting members through potential concerns or issues, organize around unionwide campaigns, working with established committees to grow the local and other duties as assigned by the local. Our organizers strategize with our President and Lead Organizer to plan organizing campaigns that engage members, potential members, and community members. Our organizers help develop strong worksite leaders by guiding and coaching members in organizing, problem solving, communications, and member engagement.
Applicants should have a working knowledge of unions and a strong commitment to the labor movement, strong computer skills, experience presenting in front of groups, the ability to adapt quickly, and multitasking skills. Organizing experience is preferred. This job requires irregular hours, some weekend work, and travel. Teachers and paraprofessionals are encouraged to apply.
SUMMARY OF DUTIES AND RESPONSIBILITIES
Take direction from the President and NAFT Lead Organizer on daily and weekly activities to grow AFT membership in the assigned school district
Prepare members to successfully organize their coworkers and mobilize parents, guardians, and community members
Plan campaigns and develop actions in collaboration with school members to promote our members' rights and fight for educational justice
Handle individual and group problem solving and grievance-related issues that arise at assigned worksites
Mobilize for union-wide events and campaigns
Work with parents and community organizations around issues related to funding and other struggles to improve our schools and communities
Make appointments for school visits, one-on-one visits and track data for each campus
Handle member issues, address campus issues, prepare and present grievances, and interact with members and potential members in assigned school campuses to make assessments
Attend daily and/or weekly meetings with supervisors to discuss progress and make plans
Enter assessments and other data collected in a database on a weekly and daily basis
Ensure all union materials are distributed on all NISD campuses
Assist with the overall union organizing program and growth of the local
Lead and assist with training
Ability to lift 20 pounds
QUALIFICATIONS
Strong commitment to the local Northside AFT organization
Some knowledge of public sector unions in non-collective bargaining situations, understanding of labor unions and social movement values is preferred
Computer literacy required, some database experience preferred, knowledge of G-Suite, and other computer programs
Reliable transportation and a valid driver's license
Be able to work irregular, often long, hours
Be willing and able to travel to appropriate worksites
Ability to work independently
Ability to meet important deadlines
Excellent communication skills
Have a professional demeanor
Bachelor's Degree preferred, but not required
Experience in union organizing a plus
COMPENSATION
Competitive salary
Retirement fund will be 10% of pay after the first year of employment
Health insurance package as governed and negotiated yearly by the Executive Board of Northside AFT
Organizers will follow the Northside calendar/holiday schedule during the school year
Vacation days -10 days per year (5 unused days may be rolled over to next year)
Sick/discretionary days-10 days per year. (5 unused days may be rolled over to next year)
Bereavement leave for death of immediate family member – 3 days local, 5 days if travel outside the state of Texas is required
Benefits will begin after the 90-day probationary period. (During the pandemic, health insurance will begin after (30) days.)
Northside AFT requires a two-week written notice if the employee chooses to resign. Failure to provide a two-week notice will result in a forfeiture of any accrued leave.
Equal opportunity employer and all are encouraged to apply.
WHEN APPLYING: Be sure to indicate that you saw this information at UNIONJOBS.COM.