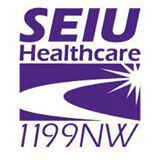 SEIU Healthcare 1199NW

Union Organizer
For Washington state
NEW Positions with a Progressive Union!
SEIU Healthcare 1199NW, a progressive healthcare union is part of the fastest growing union in the country. We are a union of 30,000 healthcare workers strong and growing in Washington State. We work toward economic and racial justice in our communities and building strong worker led unions that advocate for good jobs, safer staffing and a voice on the job for frontline staff in hospitals, clinics, behavior health and social service agencies.
A Day in the Life of an 1199NW Organizer!
Join a growing team that includes over 60 organizers doing bold worksite based organizing and bargaining throughout Puget Sound and the Pacific Northwest by engaging in:
All Organizer Positions
Leadership Development: identify and foster existing and new union leaders & activists' growth and leadership.
Racial Justice: engage workers in our fight to promote racial justice and combat white supremacy.
Engage: majority participation in contract negotiations though fun and inclusive strategies.
Plan: actions to win improvements in the workplace that promote workplace democracy & justice.
Mobilize: members to participate in community, political and organizing opportunities in the larger union and community.
Listen: utilize your excellent active listening skills to determine workplace concerns by asking open ended questions and listening more than you talk
Welcome & Educate: new members on what a union is and share opportunities for member involvement.
Build relationships: Work with people from diverse background and culture, Bilingual skills a plus
External or "New" Organizing Positions
Work with non-union healthcare workers to successfully form their union
Engage worksite leaders and member organizers around a vision of union difference and leadership that WIN union elections and first contracts.
Articulate a plan to win resulting in the successful GOTV of worker votes in union elections or card check campaigns.
Our Culture & Position Information
Healthcare workers are a predominantly female workforce and SEIU Healthcare members are committed to building respect and equity for the critical work we do that has been at times unseen or undervalued.
SEIU is the nations' largest union of immigrant workers and SEIU Healthcare members have consistently supported and led in our communities social justice initiatives including; racial justice, immigration reform and affordable health care for all.
We value experience and also foster an environment where organizers have opportunity to grow through mentorship, development programs and on the ground training.
Application
Women & People of color are highly encouraged to apply.
Position is covered by a Staff Union with a collective bargaining agreement that includes: Competitive salary ($59,000 – $90,800), and additional $6000/year car allowance, a strong benefit package including 14% employer contribution to 401K/Pension, fully paid family healthcare, 13 paid holidays a year and generous time off accrual.
Copy of driver's license, vehicle registration or title, and proof of current personal auto insurance policy required for hire.
To Apply
Applicants must submit a current résumé, with references and a cover letter expressing what their commitment and interest in the labor movement is in order to be considered for the position. Résumés and cover letters should be sent to:
Penny Lowry
SEIU Healthcare 1199NW
15 South Grady Way, #200
Renton, WA 98057
Email: pennyl@seiu1199nw.org
WHEN APPLYING: Be sure to indicate that you saw this information at UNIONJOBS.COM.