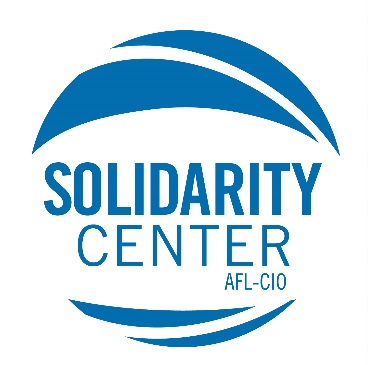 Solidarity Center

Information Technology (IT) Officer
Based in Washington, DC



[Headquarters]
Please note: all work will be done remotely for the duration of the global health crisis. Once government restrictions are lifted and office conditions are confirmed safe, the it officer will work in our Washington, DC headquarters.
Summary
The Information Technology (IT) Officer II will support the IT Senior Adviser and help to maintain Solidarity Center's IT infrastructure, providing day-to-day IT desktop support for US and internationally based employees. This individual will provide direct support for Windows and Mac OS computers in an Office365/Google Suite/Kaseya environment, install and configure hardware and software, and solve technical problems. The IT Officer will facilitate mobile device operations, on/off-boarding processes, and maintain equipment and supplies inventory. The IT Officer will assume the appropriate functions of the IT Senior Adviser in his absence and/or arrange technical support of the office and field staff by the IT vendor as needed.
Basic Qualifications
The IT Officer will be a highly motivated, success driven, dynamic professional, experienced in desktop support. This individual will be a customer service-minded individual interested in improving day-to-day operations while managing internal and external relationships in multi-cultural environments. The successful candidate will have excellent oral and written communication skills, including customer facing soft skills, and will demonstrate personal and business maturity, with a focus on providing service that exceeds expectations. The IT officer must have an aptitude for understanding and troubleshooting hardware and software problems and the ability to determine user needs. This individual also must have expertise in maintaining and troubleshooting computer hardware and software systems and effectively communicating technical information to non-technical people both verbally and in writing. A successful candidate will have demonstrated experience training users in various aspects of computer hardware and software use, including MS Office 365 and Sharepoint.
The IT Officer requires a degree in Engineering, Information Systems, Computer Science or related field, and at least 3 years of work experience in a desktop support role or similar position in an organization with offices in developing countries. This individual must possess technical knowledge and hands-on experience with:
Microsoft Windows 10, MS Office Suite 2016, Office 365 Suite, SharePoint, MS Teams, One Drive for Business, VOIP telephones (Vonage), Microsoft Exchange, Active Directory, Active Sync, Exchange
Network protocols in an 802.11 wireless network environment
ITSM Service Desk best practices
Fundamental understanding of virtual environments
Knowledge and experience with cloud/remote troubleshooting technologies such as Kaseya or other Service Desk ticketing system.
In addition, the following certifications or experience are highly desired:
CompTIA A+
MCSA Windows 10 or MCSE Desktop Infrastructure
Active Directory Administration
Microsoft Azure
Crestron
Specific Duties
Perform analysis and diagnosis, resolution of hardware and software problems for end-users, and recommend and implement corrective solutions including off-site repairs for domestic and remote international staff;
Configure, deploy, maintain, troubleshoot and support computer workstations, laptops, printers, mobile devices, VOIP telephones, Wireless Access Points, switches, routers and other computer peripherals and devices;
Manage mobile phone services, inventory and device assignments;
Prioritize, schedule and update support incidents and requests, escalate to the IT Senior Adviser, and/or the appropriate support vendor as required;
Support for Windows and Mac OS endpoints, ensuring endpoints are up-to-date and compliant with IT standard configurations and procedures;
Direct support for Office 365 Suite, Google Suite (email, cloud storage, calendar), Zoom, and other programs operating on Mac and Windows systems;
Support remote IT service providers at field offices as requested;
Support audio and video conference meetings using Polycom, Crestron, and Zoom conferencing equipment and services;
Provide end-user training on various services and systems and participate in assigned IT projects;
Provide technical assistance and support on network, hardware and software related issues;
Facilitate IT on-boarding / off-boarding process, add /remove users to O365, Azure and Active Directory, and support 3rd party application administration;
Manage mobile phone services, inventory and device assignments;
Manage software approval process and oversee compliance;
Manage floater laptop inventory;
Manage and administer Solidarity Center's cloud infrastructure;
Troubleshoot printer, scanner, and other related issues as they arise;
Manage the IT hardware and software inventory database; and
Liaise with vendor contacts for technical support and device procurement.
The IT Officer must be available to perform duties on weekends as needed.
This is a collective bargaining unit position, generously compensated with a gross annual salary starting at approximately $70,900 USD. A robust benefits package includes excellent health and life insurance coverage, a retirement plan/pension, and ample paid time off for holidays, vacation, and medical leave.
For Candidates Applying from the AFL-CIO: Please be advised that we will inform the AFL-CIO when any of its current employees apply for positions with Solidarity Center. This notification is a matter of policy for all candidates, regardless of each individual's qualifications and competitiveness for a specific opportunity.
Apply HERE!
The Solidarity Center cultivates the values of diversity, equality, and inclusion among its staff and partners. It does not discriminate on the basis of race, color, religion, sex, sexual orientation, gender identity, national or ethnic origin, age, marital status, disability, veteran status, or any other status protected under applicable law. Candidates from traditionally underrepresented groups are strongly encouraged to apply.
WHEN APPLYING: Be sure to indicate that you saw this information at UNIONJOBS.COM.