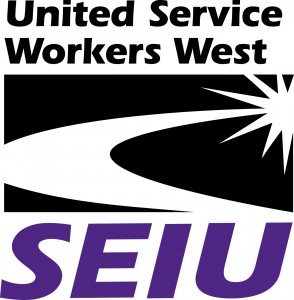 SEIU USWW
United Service Workers West



External Organizer
Based in Los Angeles, CA
The Service Employees International Union (SEIU) is our country's fastest growing labor union with more than 2 million members. We are on the cutting edge of bettering the lives of low-wage service workers and taking on the larger issues that impact their lives from healthcare to education to immigration. The United Service Workers West (USWW) is comprised of 45,000 property service workers from San Diego to Sacramento. Our union brings together janitors, security officers, residential, stadium, arena and airport workers. These workers are the heart of our union and through their activism the hope for a more progressive California. SEIU's Property Services Division in California has been on the cutting edge of building power for low-wage workers in service industries and fighting in larger struggles for social justice on issues such as health care, immigration and racial. We are now hiring an External Organizer to organize thousands of workers to join our union.
SEIU USWW has at least one (1) external organizer position available immediately, based in Los Angeles.
SOME KEY JOB RESPONSIBILITIES
Participate effectively on a team of organizers and researchers to plan and implement new worker organizing campaigns
Assist with research for corporate campaigns
Recruitment and development of workplace leaders and worker committees
Work with leaders and committees to educate, agitate and motivate workers into action
Planning and executing actions, events, marches, etc. at worksites and beyond
Ability to demonstrate good judgment and prioritize needs and issues of a campaign
Lead workers in union activities including organizing, political, and community campaigns
Maintain accurate and detailed information on work sites and track individual worker info and assignments
As needed, gather information for legal action to protect workers' rights
Perform other tasks and duties as assigned. Work to support other key local union priorities, as needed.
SOME OF THE JOB REQUIREMENTS
A strong commitment to social and economic justice and the labor movement
Experience in external organizing campaigns organizing non-union workers
Ability to effectively plan and implement work and manage time, as part of a team and individually
Ability to travel to other work sites in California, ability to work extended and irregular hours, and the ability to work remotely
Experience and knowledge of computer programs (including word processing, desktop publishing, spreadsheet and database software)
Valid drivers' license, use of a car for work, and specified automobile insurance coverage are mandatory
Bilingual in English/Spanish preferred but not required.
SALARY & BENEFITS
Salary is competitive and negotiable based on experience. (Based on Staff Union Contract)
Full benefits package including health insurance, dental, vision, a pension plan and paid time off.
To Apply:
Email a résumé with cover letter explaining interest and qualifications.
Send e-mail to: Vu.Nguyen@seiu-usww.org or Sanjay.Garla@seiu-usww.org
This position is open until filled; however, the posting/acceptance of applications may close at any time.
EIU-USWW is an equal opportunity employer and encourages applications from all qualified candidates regardless of race, ethnicity, age, sex, sexual orientation, marital status, religion, or disability.
WHEN APPLYING: Be sure to indicate that you saw this information at UNIONJOBS.COM.