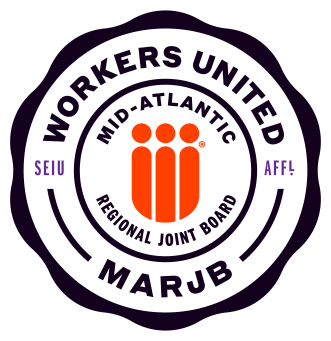 MARJB
Mid-Atlantic Regional Joint Board, Workers United

Full-Time Organizer
Based in Mid-Atlantic Region
(Delaware, Maryland, New Jersey, Pennsylvania, Virginia, and West Virginia)
The Mid-Atlantic Regional Joint Board, Workers United is hiring a full-time Organizer to build power in the workplace for unorganized and represented workers.
Applicants with the following experience or abilities are being sought:
Conducting broad and intensive outreach efforts to low-wage workers;
Building one-on-one relationships with workers, educating them about the Union;
Identifying and developing leaders to guide and lead their campaign;
Conducting individual and group meetings with workers to discuss and plan organizing campaigns;
Motivating individual workers and groups of workers to take action;
Working to involve community allies in organizing campaigns;
Engaging workers in broader union efforts to bring pressure to bear on the industry as a whole.
Applicants should have previous experience in union or community organizing. A demonstrated commitment to social justice is required.
Qualifications:
Willingness to work long hours, nights, and weekends;
Capacity to work independently and with a team;
The ability to make and follow through on a work plan;
Effective communications skills;
Basic writing and computer skills; proficiency in office is a plus; on social media is a must;
The ability to work with people from diverse backgrounds;
Willingness to conduct house visits and site visits;
Fluency in a second language, Spanish preferred.
A car and a valid driver's license are required.
The MARJB encourages people of color, women and differently abled people to apply.
Compensation:
We offer a competitive salary based on experience. Our full benefits package includes employer-paid family health, dental and vision plans, and a weekly travel allowance. This is a salaried position.
To Apply:
Please send an email to: rhess@marjb.org. Include your résumé and a short statement about your interest in this position.
WHEN APPLYING: Be sure to indicate that you saw this information at UNIONJOBS.COM.