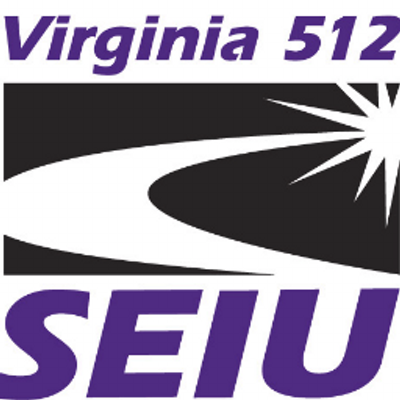 SEIU Virginia 512

Home Care Organizer
(multiple positions)
Based in Virginia
SEIU Virginia 512 is a dynamic labor union, representing home care workers across Virginia, as well as Fairfax and Loudoun county employees. We are committed to winning living wages, quality benefits, justice, and a voice on the job for working people. We advocate for policies, budgets and laws that invest in good union jobs, quality public services, economic and racial justice for all Virginians.
Position Summary:
Organizers help grow the union, identify activists and leaders, educate and empower union members to take action at work and in the community, work with community partners, elect champions and hold elected officials accountable; all in order to build power for union members and working families. Organizers will work with Home Care providers to win historic collective bargaining rights.
Job Responsibilities include:
Conduct broad and intensive outreach efforts to workers;
Build one-on-one relationships with workers;
Identify and develop worker leaders;
Conduct individual and group meetings with workers to move organizing campaigns forward;
Engage, motivate and mobilize workers to take action;
Plan and carry out actions and events to support worker organizing efforts;
Under the direction of the lead, lead new and internal organizing campaigns, and assist in executing strategic organizing plans for the union;
Ensure the tracking, reporting and analysis of campaign data;
Work with allied organizations and communities in the fight for workers;
Coordinate with other local union staff to carry out the union's organizing program and priorities.
Qualifications:
Candidates should possess previous organizing experience; a strong commitment to working people and justice; strong personal, verbal and written communication skills. Candidates should also thrive in a fast-paced and constantly changing environment.
Successful candidates will bring the following skills and attributes to the position:
Minimum of one-year prior experience in organizing and demonstrated commitment to workers' rights and social justice. (If no prior experience, position may be offered as an Organizer in Training);
Adept at leading and motivating workers in difficult struggles;
Relevant knowledge, including labor regulations, issues, etc.;
Excellent interpersonal and communication skills;
Ability to establish and cultivate respectful relationships with people from diverse backgrounds;
Skilled at meeting deadlines in a fast-paced campaign environment;
Strong oral, written and listening skills;
Excellent analytical and judgment skills;
Excellent organizational and prioritizing skills;
Flexible and adept at dealing with changing priorities;
Ability to work independently and as part of a team;
Working knowledge of computer programs including social media, Word, Excel, VAN, and good planning and administrative skills;
Kindness, empathy and concern for others.
Requirements include:
Valid U.S. driver's license with a good driving record;
Ability and willingness to work long, irregular hours, including evenings and weekends;
Ability and willingness to travel within Virginia;
Relocation to the Virginia area is required if offered a position.
Salary and Benefits:
Starting salary range is $49,000 to $52,000 annually, with annual cost-of-living-adjustments and merit raises. Benefits package includes: defined-benefit pension, fully-paid health insurance, generous paid leave, etc. In addition, an auto allowance of over $500/month will be provided. Position is an overtime exempt salaried position
Affirmative Action Employer
SEIU Virginia 512 is committed to equal opportunity for all employees and applicants and encourages applications from all qualified candidates. As a proud Equal Opportunity Employer (EOE), we do not discriminate based on race, color, national origin, ancestry, citizenship status, religion, sex, sexual stereotyping, sexual orientation, gender, gender identity, gender expression, age, marital status, mental or physical disability, medical condition, genetic information, military or veteran status, pregnancy (which includes pregnancy, childbirth, and medical conditions related to pregnancy, childbirth, or breastfeeding), or any other protected category recognized by state, federal or local laws. We work to ensure fair treatment of applicants and employees and actively enforce policies against discrimination and sexual harassment.
To Apply:
Please submit résumé to info@seiuva.org with subject line: "Home Care Organizer"
WHEN APPLYING: Be sure to indicate that you saw this information at UNIONJOBS.COM.