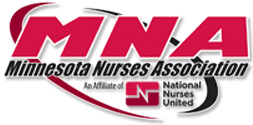 Minnesota Nurses Association
345 Randolph Avenue #200, St. Paul, MN 55102
Fax: 651-695-7000 Web: www.mnnurses.org

Labor Relations Specialist
Based out of St. Paul, MN
POSITION TITLE: Labor Relations Specialist
ACCOUNTABLE TO: Director of Field Operations
RESPONSIBILITIES:
Works to promote and achieve the goals and priorities of the Minnesota Nurses Association (MNA). Working with a team to plan and implement the initiatives of MNA in accordance with Association policy. Duties may include, but are not limited to:
Act as Chief Negotiator in negotiating collective bargaining agreements for organized bargaining units;
Organizing members to advance MNA's position on various contract proposals, grievances, or other strategic campaigns;
Investigating potential contract violations and representing nurses throughout the grievance process;
Answer member questions and concerns regarding their contract and other workplace issues
Representing nurses in labor-management committees;
Member education and training on topics including: representing members as local stewards, labor and employment related law, collective bargaining campaign strategies, participation in workplace actions and other union activities;
Other duties as assigned by the Director of Field Operations.
Travel is required, including overnight stays. Work from home is a possibility, particularly for those who live in Greater Minnesota.
QUALIFICATIONS:
Education: Bachelor's degree is preferred. Registered Nurses are encouraged to apply. Equivalent work experience will be considered.
Experience:
Demonstrated knowledge of unions, labor relations, and labor law required. Experience as a union advocate in areas of internal and/or external organizing, contract negotiations, and contract administration is required. Demonstrated knowledge of and experience in the health care industry is preferred. Excellent written and verbal communication skills and the ability to lead and motivate others are essential. Excellent analytical and problem-solving skills are necessary. One year experience as a union representative (business agent/UniServ consultant) preferred.
SALARY: Salary range is determined by collective bargaining agreement. Initial placement on the wage scale depends on experience and qualifications. Step increases per collective bargaining agreement.
MNA is an EEO/AA Employer.
CONTACT: Send your résumé and cover letter to Wesley DeBerry, MNA Human Resources Manager, at: wesley.deberry@mnnurses.org.
WHEN APPLYING: Be sure to indicate that you saw this information at UNIONJOBS.COM.