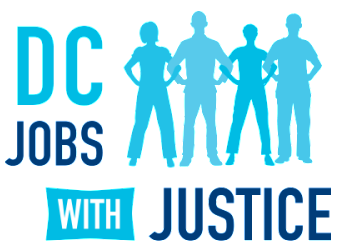 DC Jobs with Justice

Rent Control Organizer
Based in Washington, DC
Overview:
DC Jobs With Justice (DC JWJ) is a coalition of labor unions, community organizations, faith institutions, and student organizations dedicated to protecting and advancing the rights of working people in the DC metropolitan area. DC JWJ has helped win a precedent-setting minimum wage increase in DC, as well as led various campaigns to hold large corporations accountable to DC communities. In the past we have worked on a range of issues, from labor law to health care; from union organizing campaigns to immigrant rights. Please see www.dcjwj.org for more information.
DC JWJ is hiring DC JWJ is seeking an Organizer for the Reclaim Rent Control (RRC) campaign. The Reclaim Rent Control Organizer will work closely with another DC JWJ organizer and the RRC steering committee and consultants.
The ideal candidates will excel at developing and implementing strategic campaigns, building and maintaining relationships, and building consensus among diverse stakeholders with different priorities to enable effective work together on a common goal. Each person will be a team player, excited about the role of unions and coalitions in social change, and committed to justice in Washington, DC.
This position will report directly to the Executive Director of DC Jobs With Justice.
Job Responsibilities:
Campaign:
Become familiar with the platform of the Reclaim Rent Control campaign and able to teach the campaign platform to others. Participate in the RRC monthly membership meetings, weekly steering committee meetings, and working group meetings as necessary.
Outreach and Organizing:
Engage with the public about the RRC campaign. Build mobilization capacity of the organization and grow the activist base. Follow up regularly with community members and create opportunities for residents to learn more about the campaign, gain leadership opportunities, and advocate for themselves within the RRC platform.
Communications:
Ensure regular communication of DC JWJ activities to member groups, activists, and the general public. Utilize and maintain DC JWJ systems for tracking events, documents, volunteers, etc.
Government Engagement:
Participate in meetings with DC Councilmembers. Take notes and report back updates to RRC coalition. Prepare tenants and workers to participate in Council meetings. Testify at hearings and prepare others.
Required Qualifications:
Outstanding leadership skills and the ability to connect with and build effective teams of diverse partners across the community.
A strong commitment to and understanding of social justice and/or the labor movement.
Demonstrated interest in developing campaign strategy, managing campaigns, and/or coalition building.
The ability to develop and implement an organizational vision.
A willingness to work irregular hours, including evenings and weekends.
Enthusiasm for building relationships across DC's communities.
Motivated self-starter able to learn and solve problems without heavy supervision.
Strong verbal and written communication skills.
Proficiency with Microsoft Office suite, database management systems, and WordPress
Strongly Preferred Qualifications:
Bilingual in Spanish or Amharic
Graphic design experience.
Familiarity with DC Government, agencies, and legislative process.
Term of employment: This is a full-time position
Compensation: $40,000 – $50,000, based on experience
Benefits: fully paid health and dental benefit, generous leave policy
To Apply:
Applications will be considered on a rolling basis and the positions will be filled quickly. Please send a cover letter and résumé to: jobs@dcjwj.org.
Frequently cited statistics show that people of color, women, trans, and non-binary people, as well as other structurally marginalized groups apply to jobs only if they meet 100% of the qualifications. DC JWJ encourages you to break that statistic and to apply. No one ever meets 100% of the qualifications.
DC Jobs With Justice is an equal opportunity employer. We strongly encourage people of color, native Washingtonians, graduates of DC public schools, women, LGBTQ, and differently-abled people to apply.
We look forward to your application.
WHEN APPLYING: Be sure to indicate that you saw this information at UNIONJOBS.COM.