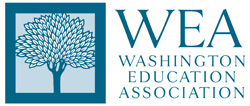 Washington Education Association

Human Resources Director
Based in Federal Way, WA
Overview:
This position oversees all aspects of HR for the WEA. You will work closely alongside the Management Team to support staff development. Your responsibilities include carrying out the vision of the Board of Directors and guiding the WEA to forge a workplace that is fair, equitable, high functioning, effective, and driving a vision. This principal role reports directly to the Executive Director.
Benefits and Compensation:
The Washington Education Association offers a highly competitive salary and benefits package which includes:
Salary range of $180,000 – $190,000 (depending on related experience)
100% Employer paid medical, dental, vision, and life insurance (full family)
Generous sick leave and paid time off
Long-term disability plan
Pension - defined benefit plan
401(K) (w/employer contribution)
Relocation assistance offered
This position offers the flexibility of remote work
Responsibilities:
Assist in developing positive labor management within the WEA by providing expertise and guidance to support the Management Team as it relates to personnel and guiding managers on effective management practices and procedures.
Advise and support Management Team in the development of employee of growth plans, administration of the job classification system, execution of human resource protocols, and implementation of the collective bargaining agreement.
Cultivate an environment that inspires collaboration and trust amongst staff to build high-performing teams.
Recommend the implementation and administration of personnel related policies, procedures, and actions with an emphasis on racial equity.
Provide advice and support required to recruit diverse pools of highly qualified candidates. Design and implement systems to successfully onboard and retain new hires.
Apply an understanding of key legal precedents, policies, and practices to protect the interests of the organization, and individual employees. This includes, but is not limited to: EEO, ADA, OSHA, ERISA, COBRA, FMLA, and NLRA.
Collaborate with other management on HR administrative functions including, but not limited to benefits, compensation, payroll, HRIS, financial and management reporting, and employee relations.
Lead the development of human resource data systems and maintain centralized personnel records.
Provide oversight and recommendations for maintaining all WEA owned and leased properties.
Develop and manage the annual HR budget.
Experience and Requirements:
Extensive education and experience in Human Resources with a strong knowledge of human resources best practices and competencies and a proven track record serving as a key partner to senior leaders and their divisions/organizations.
Successful experience in leading an organization to incorporate racial equity and social justice goals into their priorities and practices.
Proven successful management and supervision of people and projects.
Strong interpersonal skills, training, and development strategies.
Demonstrated success using performance and system tools and models.
Ability to work well with governance, staff, and management in a highly pressurized environment.
Sound critical thinking with excellent analytical skills.
Experience in a union environment or non-profit, service-driven organization or similar (e.g., active board of directors, diverse constituencies, and complex network of allied organizations).
Application process:
To be considered for this position, please apply online and submit the following materials:
Résumé reflecting applicable experience
Cover letter
List of five (5) professional references (must provide email addresses for each)
Closing date is Dec 8, 2021. Interviews are planned for January 5, 2022
APPLY HERE!
All employees must reside in WA state. WEA has implemented COVID safety protocols including requiring vaccinations of employees (unless exemption is approved), remote work, wearing masks and social distancing when work is performed in offices. Some travel may be required and is fully reimbursed. These requirements are updated regularly.
The Washington Education Association is committed to a diverse, equitable and inclusive workplace where the contributions of each employee are respected as part of the work performed on behalf of 90,000+ WEA members in public education. WEA embraces employees with varied backgrounds and life experiences, including race, ethnicity, gender, age, religion, socio-economic status, sexual orientation, gender identity, physical ability, and veteran status. Only those candidates who can commit to promoting diversity, equity and inclusiveness need apply.
WHEN APPLYING: Be sure to indicate that you saw this information at UNIONJOBS.COM.