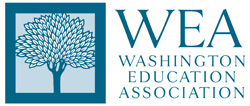 Washington Education Association

Information Technology Director
Based in Federal Way, WA
Overview:
This position oversees a team of seven that conducts all in-house IT services for the WEA. You will manage and supervise the daily work and project implementation of this team. You will develop proactive strategies with an inspiring vision alongside this staff. This critical role reports directly to the Executive Director.
Benefits and Compensation:
The Washington Education Association offers a highly competitive salary and benefits package which includes:
Salary range of $180,000 – $190,000 (depending on related experience)
100% Employer paid medical, dental, vision, and life insurance (full family)
Generous sick leave and paid time off
Long-term disability plan
Pension - defined benefit plan
401(K) (w/ employer contribution)
Relocation assistance offered
This position offers the flexibility of remote work
Responsibilities:
Ensure the safety, stability, integrity, and efficient operation of in-house IT systems that support the WEA and its staff.
Supervise a team of union-represented IT staff. Cultivate a smoothly functioning, proactive, and efficiently running team.
Oversee and direct the advanced administration, maintenance, configuration, and troubleshooting of servers, networks, and IT systems' security.
Be responsible for mitigating security risks and assessing investment opportunities that may require action plans.
Develop digital alternatives to traditional paper systems.
Continuing assessment of current systems to identify needed upgrades or system changes to maintain cutting edge IT systems.
Assess vendors and develop test strategies for new hardware and software.
Report project status to management and vendors.
Create policies, structures, and standards for WEA's management, security, and confidential nature of IT infrastructure.
Recommend and enforce policies that improve performance, scalability, and security of WEA systems and IT infrastructure.
Coordinate disaster recovery planning and testing exercises.
Develop and manage the IT annual budget.
Experience and Requirements:
Extensive education and experience in Information Technology, Computer Science, or related field. Experience must demonstrate exceptional skill and understanding across the breadth of IT systems and tools.
Experience incorporating racial equity and social justice goals into practice.
Proven successful management and supervision of people and projects.
Experience developing long-term strategies that influence organizational goals.
Must possess proficient knowledge with the following: Windows, Microsoft 365, Linux, Cisco, WAN/LAN Security, Azure Cloud Services, Salesforce CRM and SQL.
Experience with IT security, release, configuration, and change management.
Must have technical acumen to analyze issues and determine root causes.
Capacity to adapt to newer technology releases resulting in state-of-the-art solutions.
Application process:
To be considered for this position, please apply online and submit the following materials:
Résumé reflecting applicable experience
Cover letter
List of five (5) professional references (must provide email addresses for each)
Closing date is Dec 8, 2021. Interviews are planned for January 6, 2022
APPLY HERE!
All employees must reside in WA state. WEA has implemented COVID safety protocols including requiring vaccinations of employees (unless exemption is approved), remote work, wearing masks and social distancing when work is performed in offices. Some travel may be required and is fully reimbursed. These requirements are updated regularly.
The Washington Education Association is committed to a diverse, equitable and inclusive workplace where the contributions of each employee are respected as part of the work performed on behalf of 90,000+ WEA members in public education. WEA embraces employees with varied backgrounds and life experiences, including race, ethnicity, gender, age, religion, socio-economic status, sexual orientation, gender identity, physical ability, and veteran status. Only those candidates who can commit to promoting diversity, equity and inclusiveness need apply.
WHEN APPLYING: Be sure to indicate that you saw this information at UNIONJOBS.COM.