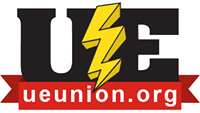 United Electrical, Radio & Machine Workers of America (UE)

UE Staff Attorney
Based in Pittsburgh, PA
The United Electrical, Radio and Machine Workers of America (UE) is seeking applicants for a Staff Attorney position at the Union's national headquarters in Pittsburgh, Pennsylvania. UE is a national union representing private and public sector workers across many industries throughout the United States. UE has a proud 80-year history of militant, rank-and-file trade unionism. UE is generally considered to be the most democratic and politically progressive union in the United States.
The UE legal department is a small, fast-paced environment that maintains an informal atmosphere. The legal department provides advice and legal support to the UE's national officers, field staff, and locals. The majority of the legal department's work is traditional labor law matters before the National Labor Relations Board and state labor relations boards across the country. However, the legal department regularly handles matters covering a wide variety of other areas of law including, but not limited to, employment law, contract law, immigration law, pension and benefits law and international law. The UE legal department has a long history of bringing novel cases and creating new law.
The Staff Attorney:
Provides advice and support to the Union's staff and officers
Represents the Union and its members in court, administrative hearings, arbitrations and in front of international tribunals
Develops and conducts training for union staff, leaders, members, and unorganized workers regarding a wide variety of legal issues
Engages in other representational activities as directed by the national officers
The ideal candidate will be a licensed attorney with a history of activism and a sound understanding of labor law and democratic trade unionism. The salary for this position is $65,000 per year. Benefits include excellent health care and retirement benefits.
To Apply:
Attorneys interested in applying for the Staff Attorney position should email a résumé, cover letter, writing sample and three references to:
jobs@ueunion.org
United Electrical, Radio and Machine Workers of America (UE) 4 Smithfield Street, 9th floor
Pittsburgh, PA 15222
Telephone 412.471.8919
Facsimile 412.471.8999
UE is an equal opportunity employer and all qualified applicants will receive consideration for employment without regard to race, color, religion, sex, sexual orientation, gender identity, national origin disability status, protected veteran status or any other characteristic protected by law. The Union very strongly encourages, people of color, women, LGBTQ people, and people from working class backgrounds to apply.
WHEN APPLYING: Be sure to indicate that you saw this information at UNIONJOBS.COM.