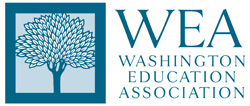 Washington Education Association

UniServ Director
Kent
Based in south King County, WA
Overview: The Kent Education Association is a single-local UniServ council representing nearly 2,000 certificated members employed by the Kent School District located in south King County, Washington. KEA leaders are seeking a UniServ staff person who is empathetic, can collaborate with other unions to affect change, has knowledge of certificated issues, and experienced with employee advocacy, including grievance and grievance arbitration.
Benefits and Compensation:
The Washington Education Association offers a highly competitive salary and benefits package which includes:
Salary range of $122,326 – $167,965 (depending on related experience)
100% Employer paid medical, dental, vision, and life insurance (full family)
Generous sick leave and paid time off
Long-term disability plan
Pension - defined benefit plan
401(K) (w/employer contribution)
Relocation assistance offered
This position offers the flexibility of remote work
Covered by the WEA/WEASO Collective Bargaining Agreement
Responsibilities:
Organize to help build strong local unions. This position will support Washington Education Association members in building and exercising power at the state and local level.
Negotiate and enforce local collective bargaining agreements.
Advocate for racial, social and economic justice for WEA members, students and communities.
Providing local, regional, and statewide member, and leader trainings relating to advocacy, collective bargaining, leadership and organizational development, strategic planning, internal organizing, and new member organizing.
Build power by encouraging membership and WEA-PAC enrollment.
Support professional development/training efforts for certificated educators and classified education support professionals.
Assist the WEA in developing and delivering trainings for leaders, members that will support organizing campaigns.
Provide counsel and advice to leadership and members.
Work collaboratively with staff, work teams, locals/districts, and community groups.
Deliver consistent and positive client communication.
Support the union's political and legislative activities.
Experience and Requirements:
BA degree or comparable experience.
Demonstrated experience working with communities of color and/or with historically underrepresented groups to enhance civil rights.
Experience with union activism and political engagement on behalf of civil rights issues.
Collective bargaining experience with knowledge of the principles of collaborative and interest-based bargaining, problem-solving and alternative dispute resolution.
Demonstrated successful experience in organizing to build strong local associations.
Record of organizing in one or more of the following areas: bargaining support, political campaigns, issue organizing or similar.
Ability to work effectively in a lead role in a fast-paced, team environment with other advocacy specialists, association staff, members, and leaders.
Ability to develop/incorporate intermediate and long-range planning components into work assignment.
Excellent communications skills.
Experience advocating for individual or collective rights.
Application process:
To be considered for this position, please apply online and submit the following materials:
Résumé reflecting applicable experience
Cover letter
Five (5) professional references must be submitted through SkillSurvey Reference (instructions provided by HR)
Closing date is December 2, 2021
All employees must reside in WA state. WEA has implemented COVID safety protocols including requiring vaccinations of employees (unless exemption is approved), remote work, wearing masks and social distancing when work is performed in offices. Some travel may be required and is reimbursed per CBA guidelines. These requirements are updated regularly.
The Washington Education Association is committed to a diverse, equitable and inclusive workplace where the contributions of each employee are respected as part of the work performed on behalf of 90,000+ WEA members in public education. WEA embraces employees with varied backgrounds and life experiences, including race, ethnicity, gender, age, religion, socio-economic status, sexual orientation, gender identity, physical ability, and veteran status. Only those candidates who can commit to promoting diversity, equity and inclusiveness need apply.
WHEN APPLYING: Be sure to indicate that you saw this information at UNIONJOBS.COM.