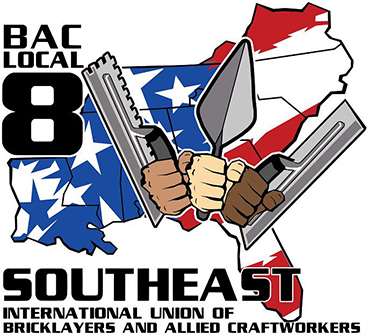 International Union of Bricklayers & Allied Craftworkers
Local 8 Southeast

Bilingual Organizers
For covering Georgia, North Carolina, South Carolina, and Tennessee
BAC local 8 SE will be holding open interviews in search of the best Organizer for the following states: Georgia, South Carolina, North Carolina and Tennessee.
To schedule an interview contact:
Rose Lopez at: 404-893-5809
Interviews will be held by President Glenn Kelly
Job Description Organizer
Develop and implement worksite campaigns, in conjunction with Field Representatives, aimed at internal organizing.
Identify, develop, and execute organizing campaigns against non- signatory contractors.
Plan and execute member actions and mobilization.
Recruit, identify, train, and develop worksite leaders and stewards.
Organize group meetings, rallies, distribute leaflets, notices and other materials to worksite leaders, Stewards and members.
Lead, motivate and mobilize worksite leaders, stewards and members in internal organizing, politics, community alliance building and other union
activities.
Develop and maintain effective communication networks in worksites, including but not limited to writing and distributing leaflets, notices,
newsletters, emails and other materials among worksite leaders, Stewards and members.
Coordinate field campaigns in support of contract campaigns and organizing new bargaining units.
Mobilize members to take action around issues in the worksite.
Recruit new members.
Conduct work site organizing activities, including member and community engagement.
Identify and recruit activists and volunteers from the membership.
Participate in leadership training and development.
Recruit, develop, and mobilize worker organizing committees.
Identify, recruit, and develop member organizing leaders and train and supervise them in their organizing efforts.
Support other key Local priorities, as needed.
Perform any other assignments as directed by the President.
WHEN APPLYING: Be sure to indicate that you saw this information at UNIONJOBS.COM.