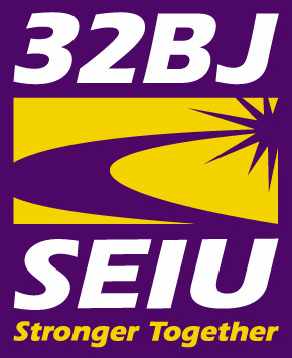 SEIU Local 32BJ

Lead Field Representative
NJ School Food Division
Based in Newark, NJ
At the forefront of building the nation's labor movement, 32BJ SEIU is changing the narrative around important social and economic issues facing working families. Founded in 1934, 32BJ is the largest union of property service workers in the nation. We have a powerful and important mission: To build and grow a diverse, effective, politically independent and democratic organization of workers to change our lives for the better, improve our communities, and build a more just society for present and future generations.
With a commitment to building power for low-wage workers, 32BJ is engaged in winning strong contracts for members, organizing workers, supporting progressive candidates for elected office and moving a broad policy agenda, such as paid sick days, expanding access to health care and the Fight for $15.
The union has approximately 425 staff in sixteen offices from Boston to Miami. 32BJ SEIU represents over 175,000 property service workers including janitors, security officers, airport workers, and food service employees in 11 states and Washington, D.C. 32BJ is an affiliate of SEIU, the Service Employees International Union, which has 2 million members dedicated to raising industry standards and making life better for all working families and communities.
32BJ SEIU's headquarters are in New York City.
DUTIES AND RESPONSIBILITIES:
The School Food Lead Field Representative's primary areas of responsibility are: member engagement, member leader identification and development, member representation, contract campaigns, and negotiation of seven to ten collective bargaining agreements annually. This position reports to the New Jersey Staff Director.
Responsibilities include, but are not limited to, the following:
Identifying and developing Shop Stewards and member leaders at all assigned sites;
Expanding the activist base of the Union by connecting members to a variety of district and union wide activities;
Developing and executing worksite or company-wide contract campaigns;
Assisting in organizing campaigns among non-union workers in our industries;
Serving as Lead Negotiator during contract negotiations;
Connecting member leaders with the broader movement for social and economic justice.
QUALIFICATIONS AND EXPERIENCE:
The ideal candidate will be able to lead, motivate and inspire members. As this position is the sole representative for the school food division, the applicant must be able to take initiative and work with a high degree of autonomy, while executing on agreed upon work plans. The successful candidate will bring many of the following professional skills and personal attributes:
Strong interpersonal and communication skills including verbal and written English;
Ability to cultivate respectful relationships with people from diverse backgrounds;
Working knowledge and understanding of collective bargaining and contract administration issues;
Experience drafting contract proposals, serving as Lead Negotiator and running a contract campaign;
Strong organizational skills with ability to manage and prioritize deadlines in a dynamic and changing environment, both individually and as a team member;
Administrative skills, including ability to use computer applications (MS Word, Excel, Internet/email functions) and union applications including CRM, field app and databases;
Commitment to the social justice and labor movements.
WORK ENVIRONMENT:
This position is a full time position that regularly requires hours outside normal business hours, including some nights, weekends and holidays.
This position is based in the Newark, New Jersey office.
This position requires driving to worksites throughout the state of New Jersey.
Valid driver's license and car with insurance required.
PHYSICAL DEMANDS:
This position requires traveling to worksites and participating in events, marches and demonstrations.
COMPENSATION & BENEFITS:
The salary for a Lead Field Representative is $90,456. 32BJ offers a generous benefits package that includes a fully employer-paid medical, dental and vision plan (for full-time employees and their qualified dependents) and retirement benefits, including a defined benefit pension plan and 401K. 32BJ offers paid time off including three weeks' vacation, eleven holidays, twelve sick days, and, after the first year of service, four personal days. The union currently offers a remote work policy of one remote day per week at the discretion of the manager.
APPLICATION:
Please send a resume and letter of interest to HR@seiu32bj.org. Please use "FIELD REPRESENTATIVE – NJ SCHOOL FOOD DIVISION" in the subject line of your email.
Please note 32BJ has implemented a vaccine mandate. Bona fide religious and ADA exemptions are permitted with additional safety measures.
32BJ is an inclusive and diverse organization, committed to advocating for social, racial and economic justice. We promote diversity and strongly encourage applications from people who believe in our mission. We strongly encourage women and people of color to apply.
For more information on 32BJ SEIU, visit www.seiu32bj.org.
WHEN APPLYING: Be sure to indicate that you saw this information at UNIONJOBS.COM.