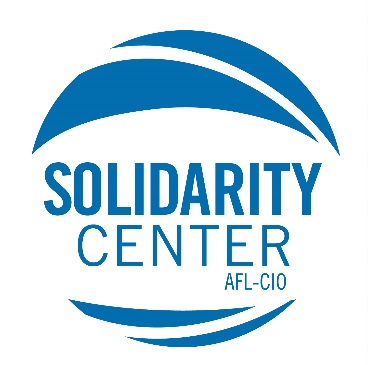 Solidarity Center

Senior Program Officer for Grassroots Internationalism
Based in Washington, DC
Please Note: Solidarity Center staff enjoy a hybrid telework/in-person schedule. We also have a mandatory vaccine policy and safety protocols in all our facilities. All candidates applying for this role will be expected to adhere to these policies and to work in the Washington, D.C. office a minimum of three days per week unless an ADA or health-related exemption is approved.
Location: Washington, DC
Application Deadline: When filled
Summary
Solidarity Center seeks an experienced labor activist with extensive networks to foster strategic connections across the globe to expand and support our work in the field. The primary focus of this position is on building relationships with U.S. unions and allied organizations (for women, BIPOC, LGBTQ+, and immigrant communities) at the grassroots level to enhance solidarity with partners abroad for both short-term campaigns and long-term cooperation. The Senior Program Officer for Grassroots Internationalism (GI) is a newly created position that will identify and track opportunities for international solidarity and collaboration, organize stakeholder buy-in, and develop the knowledge and mechanisms to connect rank-and-file workers, local unions, and worker organizations across borders.
This individual will serve as an internal resource on outreach to American unions and worker rights groups, facilitating collaboration between organizations in the U.S. and Solidarity Center's partners abroad. The GI Senior Program Officer will also serve an educational function in distilling lessons learned from the global fight for worker rights and economic fairness and sharing them with the U.S. labor movement. This individual will be a liaison with Solidarity Center field offices, in coordination with Regional and Country Program Directors.
The GI Senior Program Officer will be responsible for developing and implementing Solidarity Center's Exchange Program (EP) and will utilize it to help build grassroots internationalism. This individual will have day-to-day responsibility for administering the Exchange Program and similar initiatives for American trade unionists and their global counterparts. The GI Senior Program Officer will coordinate with the International Affairs and other departments and affiliates of the AFL-CIO, to ensure that the program reflects their needs. This individual will serve as the primary liaison with EP funders, including the State Department's Office of Citizen Exchange. This individual will manage the Exchange Program and provide guidance to staff on its development and implementation.
The GI Senior Program Officer will initiate proposals and seek funding from donor organizations, write proposals that describe complex activities, and develop budgets. This individual will draft program reports and evaluations and monitor programs to meet budget targets and programmatic results. The GI Senior Program Officer will maintains administrative oversight and ensure grant compliance with rules and regulations governing the grants, with responsibility for meeting donor reporting requirements. This individual will assess the Exchange Program to determine whether funds on-hand can be leveraged to create new projects or revise the existing program. The GI Senior Program Officer will advise the Director of Trade Union Strengthening (TUS) regarding any revision, extension, or amendment of any program grant, and will prepare requests for modifications to the EP Agreement for review.
The GI Senior Program Officer will prepare and share information on the Exchange Program and coordinate with staff across Solidarity Center, assist and advise Country Program Directors on program details, and work with AFL-CIO affiliates on their participation. This individual will assist with and, when necessary, provide logistical support for international visitors and participants. The GI Senior Program Officer will represent Solidarity Center at meetings and conferences in the U.S. and abroad.
The GI Senior Program Officer must become familiar with Solidarity Center programs and current events relevant to on-going global, political, economic, social and trade union developments. This individual will need to develop working knowledge of USG regulations and procedures related to the funding and management of exchange programs.
Supervisor: Director of Trade Union Strengthening
Basic Qualifications:
Ten years experience in the U.S. labor movement, ideally in a leadership role sufficient to build extensive networks and deep connections with a range of U.S.-based organizations
Thorough understanding of U.S. unions and labor in general, including their campaigns and work
Deep understanding of organizing, international campaigns, collective bargaining, and the structural needs of unions to meet the challenges for workers in a changing economy
Proficiency and experience in public speaking and delivering presentations to large audiences
Considerable experience in strategic campaigning and coalition building
Clearly demonstrated passion for workers rights struggles in both the US and abroad
Ability to work independently and without supervision
Ability to manage multiple assignments simultaneously and make substantive decisions that have major effects on costs and completion of projects
Ability to work and interact easily with a wide variety of people
Budget management skills
Good communications and writing skills
Computer literacy for word processing and simple spreadsheets
Persons considered for this position must agree to accept temporary or indefinite assignments as a field representative, based on the needs of Solidarity Center. Fluency in any of the languages of the region is a plus.
Specific Duties:
Support field offices by building strategic partnerships with U.S. unions and worker rights organizations for short-term campaigns and long-term solidarity;
Research and establish grassroots connections with unions and allied organizations (specifically for women, BIPOC, LGBTQ+, and immigrant communities) in the U.S.;
Write/edit proposals, reports, letters, and other correspondence;
Administer Solidarity Center exchange programs in the U.S. and meet with a wide variety of visitors from the field involved in efforts to promote labor rights and standards and democracy;
Coordinate activities with the Center's other program and functional offices;
Assist, as required, in the work of the Center's other program and functional offices;
Develop coalition-building contacts with U.S. labor, government and non-governmental organizations in the Washington area;
Provide guidance to field offices on AFL-CIO and Center policies and priorities related to grassroots internationalism and exchange programs;
Provide expertise, strategy, and relationships from the U.S. labor and progressive movements to field offices and partners for use in global campaigns;
Serve as a liaison between the Center and AFL-CIO affiliates, GUFs, ITUC, its regional organizations and the ILO on matters related to grassroots internationalism and the exchange programs;
Assist and advise regional departments in program development and proposal writing in relation to grassroots internationalism and the exchange program;
Recruit consultants and technical staff for exchange programs as needed;
Provide technical assistance and support to conduct program evaluations of field projects and recruit evaluators in assigned area of programming;
Support field trips by Solidarity Center personnel in assigned area of programming;
Share information on issues in assigned area of programming as requested by Washington-based U.S. government offices and Congress;
Travel on a temporary (TDY) basis to conduct and/or oversee program development and/or implementation in assigned area of programming in countries without a Center field office;
Work closely with AFL-CIO affiliates to coordinate their participation in the development and implementation of exchange programs, within approved communications guidelines;
Monitor program and budget targets;
Represent the Solidarity Center as directed;
Initiate concept papers and program proposals and seeks funding for same;
Direct the work of program officers and assistants in the program department, under the supervision of the TUS Director;
Assume the responsibilities of the TUS Director in his or her absence, with the exception of hiring, firing, promoting or disciplining staff.
This is a collective bargaining unit position, generously compensated with a gross annual salary starting at approximately $95,610 USD. A robust benefits package includes fully paid health insurance, a 401k retirement plan plus AFL-CIO pension, life insurance, and ample paid time off for holidays, vacation, and sick leave. Pre-tax deduction programs are also available for commuting, dependent care, and health care expenses.
Apply HERE.
The Solidarity Center cultivates the values of diversity, equality, and inclusion among its staff and partners. It does not discriminate on the basis of race, color, religion, sex, sexual orientation, gender identity, national or ethnic origin, age, marital status, disability, veteran status, or any other status protected under applicable law. Candidates from traditionally underrepresented groups are strongly encouraged to apply. If you have a disability and require a reasonable accommodation to apply for this position, please contact us at information@solidaritycenter.org.
For Candidates Applying from the AFL-CIO: Please be advised that we will inform the AFL-CIO when any of its current employees apply for positions with Solidarity Center. This notification is a matter of policy for all candidates, regardless of each individual's qualifications and competitiveness for a specific opportunity.
WHEN APPLYING: Be sure to indicate that you saw this information at UNIONJOBS.COM.