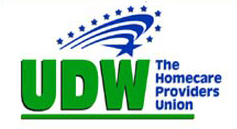 United Domestic Workers of America
(AFSCME Local 3930)



Public Information Officer
Based in Sacramento, CA
UDWA Overview:
United Domestic Workers of America (UDWA) Care Providers Union/AFSCME Local 3930 is a statewide labor union that represents more than 150,000 home care and childcare providers in 45 counties in California. Founded in 1979, UDWA is a diverse, progressive labor organization that seeks dynamic, committed individuals who will support our members and those for whom they care locally, statewide and at the national level.
United Domestic Workers of America is one of California's largest unions of home care and childcare providers and consistently supported and led our community's social justice initiatives including racial justice, income inequality and affordable health for all. We are committed to respect and dignity for Californians with disabilities, the sick, and the elderly. We fight for better working conditions collectively and fair pay for home care and childcare providers and full funding for life-saving programs like In-Home Supportive Services (IHSS). For more information about United Domestic Workers of America (UDWA), please visit our website at: http://www.udwa.org/.
Job Information:
Job Title: Public Information Officer
Job Type: Salary Exempt
Department: Communications
Reports To: Communications Director
Schedule: Monday Through Friday 9am-5pm, in-person with hybrid opportunity to work from home.
Job Location: Sacramento, CA
Salary: Depends on experience), salary range is $69,000/year to $80,000/year
Job Summary:
This position's primary objective is to develop and execute our union's external communications and media relations strategy and engage with local, state, and national reporters to lift up UDW member voices and position UDW as a leader in long-term care and intersectional worker justice.
Essential Duties and Responsibilities
With guidance from communications director, develop and implement UDW's external messaging to complement all major communications campaigns and UDW's mission and goals.
Develop earned media strategies to proactively place stories in relevant news media (TV, radio, print, digital) that further UDW's campaign goals, elevate the voices of our members and the people they care for, and that increase the profile and visibility of UDW as a leading social justice organization.
Field and be responsive to media requests, connecting reporters to the appropriate member leaders, staff, and rank-and-file members in a timely manner.
Leverage social media to identify and communicate with relevant reporters.
Proactively pitch creative and timely story ideas.
Develop and maintain substantive relationships with reporters, columnists, and editors in the Capitol and across all California media markets.
Build up UDW's relationships with local news media, especially where we are engaged in contract negotiations.
Support rapid response to developments and emerging stories affecting UDW issues and campaigns by actively following relevant news outlets and developing reactive media strategies.
Work closely with communications director and UDW legislative and field departments to develop media strategies that accomplish stated campaign goals while also positioning UDW as a leader in long-term care and intersectional worker justice.
Coordinate all UDW media events, including timing, staging, messaging, logistics, and brief/prep for key event participants.
Write UDW's external communications, including press releases/advisories, statements, pitches, talking points, speeches, op-eds, letters to the editor, background pieces, fact sheets, press kit materials, and other items as needed.
Prepare UDW members, leaders, and staff for media interviews.
Conduct ongoing media spokesperson trainings to build our organizational capacity to engage with media.
Conduct ongoing messaging trainings to develop persuasive member leaders and staff.
With staff writer, interview UDW members and catalogue their stories in a comprehensive, up-to-date story bank.
Act as a liaison with media relations staff and communicators from collaborating labor unions, community organizations, elected officials, and coalition partners as needed for various campaigns.
Develop collaborative working relationships with UDW member leaders, staff, and rank-and-file member leadership to advance UDW's public image and uplift member voices.
Develop a deep knowledge base of UDW programs, campaigns, and general operations.
Track the outcomes of our media relations work by monitoring coverage, maintaining and distributing relevant clips, maintaining updated media contact lists, analyzing results and adjusting media strategy as needed.
Participate actively in the UDW Communications Department, collaborating with fellow communications staffers, and performing other duties as assigned including UDW event coverage.
Knowledge, Skills, and Abilities:
Excellent written and oral communications skills (media/press-specific).
Ability to work with people from diverse backgrounds/cultures.
Ability to work independently as well as on a team.
Demonstrated commitment to racial, economic, and social justice.
An entrepreneurial and creative mindset to develop ideas that generate media coverage and define core campaign issues.
Must be able to act and organize time with extreme independence.
A high level of independent judgment and initiative is required.
Must be able to work with elected leaders, members, and staff in complex and sometimes sensitive political situations.
Must be able to handle multiple "priority" projects simultaneously and meet established deadlines.
Position may include leading other staff in a non-management role
Preferred Qualifications, Education and/or Experience:
Bachelor's degree in Communications, Public Relations or equivalent, preferred.
5+ years' experience in a newsroom or in public relations work.
Experience working with California news media.
Demonstrated experience in performing pro-active media outreach, maintaining good working relationships with journalists, and generating positive media coverage.
Previous experience with/knowledge of labor unions, political campaigns, and/or other advocacy organizations strongly preferred but not required.
Bilingual - Spanish strongly preferred.
Requirements:
High school diploma or equivalent required
Must possess a valid California driver's license, auto insurance that covers business driving, and an automobile for business use.
Willingness to travel, and ability to work flexible hours and work long and irregular hours, including evenings and weekends.
Employee Benefits:
Health Insurance
Dental Insurance
Vision Insurance
Life / AD&D
Long Term Disability (LTD)
401(k) Savings Plan
Pension Plan
Paid vacation Days
Paid Sick Leave
Personal Day (8 hours)
14 Paid Holiday
COVID-19 Vaccination Requirement:
United Domestic Workers of America has adopted a COVID-19 vaccination policy to safeguard the health and well-being of our employees. As a condition of employment, our employees required to be fully vaccinated for COVID-19 unless a reasonable accommodation is approved or as otherwise required by law.
Physical Demands
The physical demands described here are representative of those that must be met by an employee to successfully perform the essential functions of this position. Reasonable accommodations may be made to enable individuals with disabilities to perform the functions. While performing the duties of this position, the employee is regularly required to talk and hear. The employee frequently is required to use hands or fingers, handle, or feel objects, tools or controls. The employee may be required to stand; walk; sit; reach with hands and arms; climb or balance; and stoop, kneel, crouch, or crawl. The employee must occasionally lift and/or move up to 30 pounds. Specific vision abilities required by this position include close vision, distance vision, color vision, peripheral vision, and the ability to adjust focus. The noise level in the work environment is usually moderate.
Work Environment
The work environment characteristics described here are representative of those an employee encounters while performing the essential functions of this job. Reasonable accommodations may be made to enable individuals with disabilities to perform the essential functions.
While performing the duties of this job, the employee is primarily exposed to an office-type environment. The employee will frequently work on or around office equipment and furniture. The noise level in the work environment is low to moderate. The employee will frequently work with deadlines under pressure and will occasionally be required to work alone. The employee is occasionally exposed to outdoor environment can include exposure to vehicles, moving mechanical parts; vibration; odors, fumes, gasses, smoke, dust, or airborne particles; and outside weather conditions.
Equal Opportunity Employer
UDWA is an equal opportunity employer, and, as such, does not discriminate an employee or applicant based on race, creed, color, age, sex, national origin, marital status, sexual orientation, gender identity, religious affiliation, disability, or any other classification protected from discrimination under applicable law.
Women, people of color and members of the LGBTQIA+ community are strongly encouraged to apply.
To Apply for this position:
Email a detailed résumé, cover letter, and 3 writing samples form the following list:
Press/News releases
Fact sheets
Feature articles
Social media messages
Blog posts
Speeches
PowerPoint presentations
Brochures
Media pitches
Statements
Website messages
Talking points
Email: jobs@udwa.org
In subject: Title of Position (applying for)
Attn: Human Resources
WHEN APPLYING: Be sure to indicate that you saw this information at UNIONJOBS.COM.