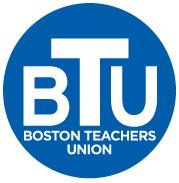 Boston Teachers Union



Union Organizer
Based in the Boston, MA metro area
Job Description:
This is a full-time position with the Boston Teachers Union. The Union Organizer will support planning, development and implementation of new organizing, recognition, and contract campaigns with the Boston Teachers Union. The Organizer will be responsible for conducting and analyzing research, mapping, strategic planning, list-building, and one-on-one organizing. They will build relationships, develop and lead organizing committees, and engage family and community partners. They will also coordinate closely with leaders and staff of BTU and the American Federation of Teachers on connecting their work to our broader union goals, values, and structure.
The Union Organizer position is a minimum 1-year position, with the goal of multi-year/indefinite extension.
Qualifications:
Experience leading union recognition campaigns strongly preferred
At least 2 years of previous labor and/or applicable community organizing preferred
Demonstrated ability to work independently and show initiative in developing plans and strategy
Experience in organizing others, building unity among diverse groups and mobilizing others to take action
Ability to carry out goals and meet timelines
Strong commitment to the labor movement and to social, economic, and educational justice
Willingness to take direction, work in a team, and work within an existing local and international union
Excellent verbal and written communication skills
Competency in common office and communications software and technology
Willingness to work nights and weekends as required
Applicants must live in the Boston Metro area or be willing to relocate there.
Summary of Duties and Responsibilities:
The Union Organizer will develop strategy and plans to move forward new organizing campaigns for the BTU. They will report to the BTU Organizing Director and coordinate closely with leaders of the BTU or their designees as well as representatives of state and national AFT affiliates.
Some specific responsibilities:
Organize and mobilize workers
Conduct research and analyze data to inform strategy
Take the lead on developing strategy and writing campaign plans
Participate in daily and weekly meetings to discuss progress and plan activities
One-on-one visits, site visits, meetings, and other interaction with potential members
Identify and develop new leaders and activists
Develop and conduct trainings for workers and organizing committees
Plan and facilitate meetings
Move workers through union election/recognition process
Develop communication plans and create pieces including flyers, emails and social media
Help create data systems and use assessments and other data to track progress and inform decision-making
Take direction and give effective input to help grow membership and accomplish goals
Support other campaigns and goals at BTU and affiliates as needed
Support and help lead contract campaigns with employers
Salary and benefits:
Competitive salary, health benefits, retirement and vacation are included.
How to apply:
Please submit a cover letter and résumé by emailing Daphne at: dsoto@btu.org.
Review of applications will begin immediately and will continue until the position is filled.
Equal Employment Opportunity and all are encouraged to apply.
WHEN APPLYING: Be sure to indicate that you saw this information at UNIONJOBS.COM.