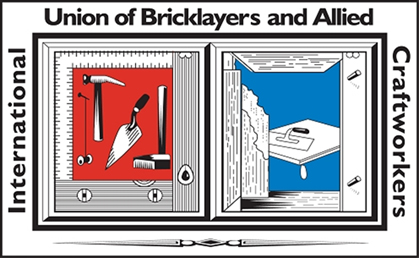 International Union of Bricklayers and Allied Craftworkers

Field Organizing Data Specialist
Hiring in the Washington, DC area
(primarily remote position but periodic travel across the US)
Are you interested in working for an organization that believes in fair wages, exceptional benefits, safe working conditions and promotes great team spirit? If so, we'd love for you to consider joining our team! International Union for Bricklayers and Allied Craftworkers (BAC) is currently hiring in the Washington, DC area for the position of Field Organizing Data Specialist.
Since its founding in 1865, the International Union of Bricklayers and Allied Craftworkers has actively fought to improve our members' quality of life—on and off the job—through access to fair wages, good benefits, safe working conditions, and solidarity among members.
Today, we represent the most highly skilled trowel trades craftworkers across the United States and Canada including bricklayers, stone and marble masons, cement masons, plasterers, tile setters, terrazzo and mosaic workers, and pointers/ cleaners/ caulkers. With over a century of protecting the rights of our workers, BAC is the oldest continuous union in North America.
The Position:
The International Union of Bricklayers and Allied Craftworkers (BAC) is seeking a talented individual to assist its Organizing Department in the coordination of its activities, including maintenance and development of its Action Builder organizing database. BAC, North America's longest-serving trade union, is dedicated to organizing masonry craftworkers throughout the United States and Canada for the purpose of improving the lives of our members, their families, and their communities.
This position is responsible for assisting the Organizing Director and the International Union Executive Board with the maintenance of organizing data in Action Builder and other databases, conduct and logistics of training and organizing programs, organizing research, and coordination of Organizing Department initiatives and campaigns.
Duties and Responsibilities:
Primary responsibility is to develop and support back-end maintenance of BAC's Action Builder campaigns;
Coordination with IU staff, as well as BAC Local Unions and District Council officers and organizers, regarding best practices in using Action Builder and other organizing tools;
Under the direction and guidance of the Organizing Director, developing and delivering training curricula on the use of Action Builder and other organizing databases and tools;
Coordinating and assisting in the delivery of Organizing Department programs;
Performing research to assist organizing campaigns, as directed by the Organizing Director;
Assisting the Organizing Director with management of Organizing Department field activities.
Skills & Other Requirements:
Substantial experience with the maintenance and use of Action Builder or similar CRM tools
Bachelor's degree, or at least five years of work experience in labor, political, or community organizing
Demonstrated commitment to the labor movement and/or aligned organizations
Proficiency in both verbal and written communication
Research skills
Proficiency, or ability to develop proficiency, in training on organizing data management
Personal organization and attention to detail; effective time management skills, including demonstrated ability to manage and prioritize multiple tasks and projects
Ability to work independently within the context of a plan
Ability to work extended hours when needed
Ability to travel, sometimes on short notice, for up to a week several times per year
Proficiency in Spanish preferred
Position Type / Expected Hours of Work
This is a full-time position that is primarily remote but a successful candidate must be able to travel for work across the U.S. on a periodic basis (generally no more than 8 times per year). This is a salaried position that reports to the Director of Organizing for the International Union.
Salary Range: $60,000 – $80,000
Schedule: Monday to Friday
Location: Primarily remote position but periodic travel across the U.S.
Application Process: To apply to this exceptional and rewarding opportunity, please submit applications/bids to Human Resources attention:
Human Resources Manager
apply@bacweb.org
Email Subject Line: BAC Organizing Data Specialist
BAC is an Equal Employment Opportunity employer. People of color, people with disabilities, LGBTIQ people, veterans and women are all especially encouraged to apply. We take pride in our pluralistic community and continue to seek excellence through diversity and inclusion.
WHEN APPLYING: Be sure to indicate that you saw this information at UNIONJOBS.COM.